In a significant departure from his official role, British Prime Minister Rishi Sunak participated in a Ram Katha event at Cambridge University, emphasizing his identity as a Hindu rather than his position as the PM.
Prominent Spiritual Gathering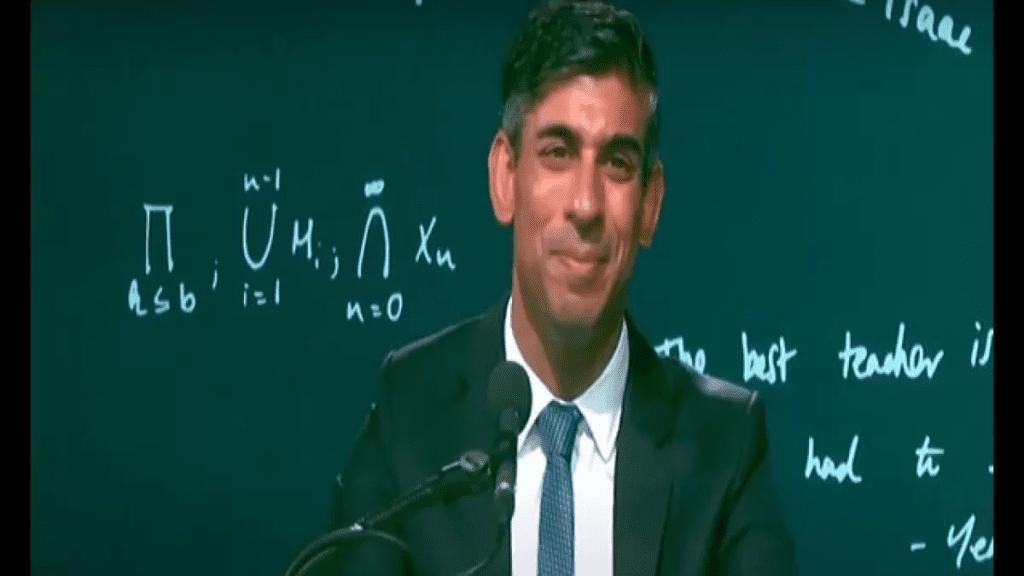 August 15 witnessed British Prime Minister Rishi Sunak joining a Ram Katha event led by renowned spiritual leader Morari Bapu on the grounds of Cambridge University. Sunak made a conscious choice to represent himself as a Hindu by raising the slogan 'Jai Siyaram,' signaling his presence not as the Prime Minister but as a devout Hindu.
Honoring Independence Day
As part of the event, Sunak paid homage by offering floral tributes at Morari Bapu's Vyas Peeth. He addressed the gathered audience, expressing his privilege to mark Indian Independence Day with the Ram Katha of Morari Bapu at Cambridge University.
Personal Faith and Responsibility
Sunak articulated that his faith holds a deeply personal significance, guiding every facet of his life. He acknowledged the great honor of being the Prime Minister while acknowledging the challenges that come with the role. He stated that his faith grants him the strength, resilience, and courage needed to make critical decisions for the betterment of his nation.
A Noteworthy Declaration
During the event, a video of Sunak's speech gained traction on social media. The audience responded with resounding applause as he proclaimed his presence as "not a Prime Minister, but a Hindu." He also shared a moment of pride in illuminating a lamp and having an idol of Lord Ganesha.
Inspirational Figures

As the first Indian-origin Prime Minister of the United Kingdom, Sunak revealed his unwavering reverence for Lord Ram. He concluded his address with the resonant slogan 'Jai Siyaram,' signifying his deep connection to Lord Ram's principles.
Guidance in Facing Challenges

Sunak wrapped up his speech by recalling the teachings of the Ramayana, the Bhagavad Gita, and the Hanuman Chalisa. He asserted that Lord Ram's ideals continue to inspire him, enabling him to confront life's trials with valor, govern with humility, and dedicate himself selflessly.
---
The Hindustan Herald Is Your Source For The Latest In Business, Entertainment, Lifestyle, Breaking News, And Other News. Please Follow Us On Facebook, Instagram, Twitter, And LinkedIn To Receive Instantaneous Updates. Also Don't Forget To Subscribe Our Telegram Channel @hindustanherald