As incessant rain continues to wreak havoc in Uttarakhand, Chamoli district witnesses a surprising turn of weather with its first snowfall of the season. The higher areas of this picturesque region, including Badrinath Dham, Hemkund Sahib, and Rudranath, have been transformed into a pristine white landscape. This unexpected snowfall comes on the heels of relentless rain that has caused monsoon mayhem in the state over the past two days.
Snow-Covered Chamoli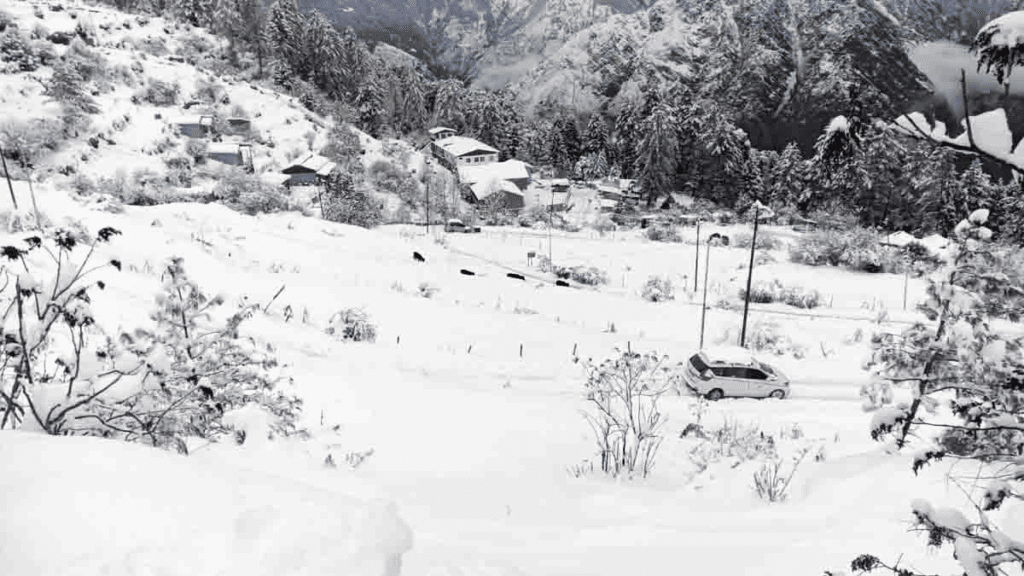 Picturesque locations like Badrinath Dham, Hemkund Sahib, and Rudranath, nestled in the higher reaches of Chamoli district, woke up to a winter wonderland as snow blanketed the region. The unexpected snowfall paints a surreal picture against the backdrop of ongoing rainfall in the area.
Monsoon Challenges Continue
Despite the enchanting transformation brought about by the snowfall, Uttarakhand continues to grapple with the challenges posed by the monsoon. The India Meteorological Department (IMD) predicts further rainfall in the coming days, both on Monday and from Wednesday to Friday. This unrelenting rainfall has led to frequent landslides and flash floods, causing disruptions in the region.
Impact on Transportation
The continuous rain in the last two days resulted in debris piling up near National Highway 9 in Amori village. Additionally, the Badrinath National Highway near Pagalnala faced temporary blockage due to debris accumulation. These roadblocks created hurdles for commuters and pilgrims heading to Badrinath temple town, emphasizing the need for prompt response and clearance efforts by authorities.
The Lifeline of Pilgrimage Sites
The Badrinath National Highway plays a pivotal role in connecting various pilgrimage sites, including Badrinath and Kedarnath. It serves as a lifeline for the tourism and religious activities in the region.
Weather Alerts
The India Meteorological Department (IMD) had previously issued a 'red' alert for the state due to the anticipation of very heavy rainfall. To address the potential challenges posed by the monsoon, Uttarakhand's State Emergency Operation Centre has advised all district magistrates to take precautionary measures in their respective districts, especially in areas where heavy to very heavy rains are expected.
In conclusion, while the sudden snowfall has added a touch of magic to Chamoli's landscape, the challenges of the monsoon persist, emphasizing the importance of preparedness and response efforts to ensure the safety and well-being of the residents and tourists in Uttarakhand.

---
The Hindustan Herald Is Your Source For The Latest In Business, Entertainment, Lifestyle, Breaking News, And Other News. Please Follow Us On Facebook, Instagram, Twitter, And LinkedIn To Receive Instantaneous Updates. Also Don't Forget To Subscribe Our Telegram Channel @hindustanherald