In a recent event organized by the Communist Party of India (Marxist) or CPI(M), Sitaram Yechury, the general secretary, expressed his concerns regarding the Israel-Palestine conflict. He highlighted the dwindling territory of Palestine and criticized the ongoing attacks and counter-attacks in the region. Here are the key points from his address:
Palestine Reduced to a Minuscule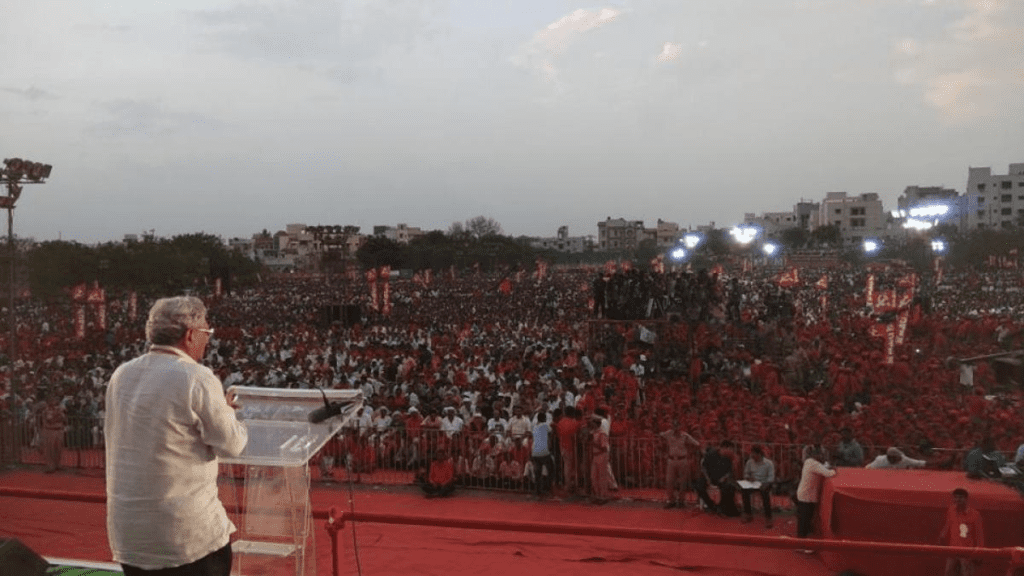 Sitaram Yechury emphasized that Palestine has been drastically reduced in size. He pointed out that there are now more Palestinians living outside Palestine than within its borders. He cited Egypt's willingness to provide refuge to Palestinians but expressed concerns that if Israel continues to push them into the Sinai Peninsula, they might never be allowed to return to their homeland. Yechury suggested that this could result in the entirety of the land falling under Israeli control, calling it a conspiracy.
Concerns for Palestine's Future
Yechury's speech at the CPI(M) event underscored the challenges facing Palestine and its people. The situation in the region has been a matter of international concern, with ongoing conflicts and political disputes.
Sitaram Yechury's statements reflect the broader conversation about the Israel-Palestine conflict and the plight of the Palestinian people. His comments highlight the need for a peaceful resolution to the conflict and the protection of Palestinian rights.
The comments made by CPI(M) general secretary Sitaram Yechury shed light on the growing concerns about the shrinking territory of Palestine and the complexities of the Israel-Palestine conflict. This issue remains a significant topic of discussion in international politics and diplomacy.
---
The Hindustan Herald Is Your Source For The Latest In Business, Entertainment, Lifestyle, Breaking News, And Other News. Please Follow Us On Facebook, Instagram, Twitter, And LinkedIn To Receive Instantaneous Updates. Also Don't Forget To Subscribe Our Telegram Channel @hindustanherald