In a heartwarming yet controversial video, the District Magistrate of West Delhi, Lakshay Singhal, is captured extending a warm welcome to a priest visiting his office. This encounter has garnered significant attention on social media, prompting a response from the Delhi government.
The Respectful Gesture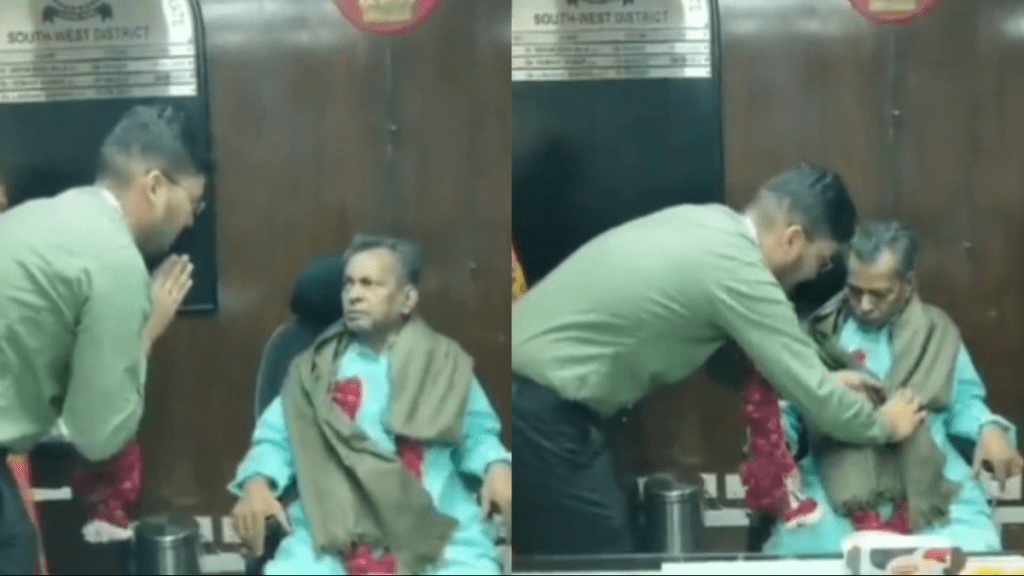 In the video that has gone viral, Lakshay Singhal is seen offering a traditional shawl to the priest and conversing with him while clasping his hands in reverence. The priest is shown seated in the District Magistrate's official chair during the interaction.
Delhi Government Seeks Clarification
Following the video's circulation, the Delhi government initiated an inquiry into the matter and requested an explanation from the IAS officer. A senior revenue department official disclosed that they took notice of the video and asked Singhal to provide an account of his actions within a public office. In response, Singhal explained that the priest is his guru, who had encouraged him to pursue a career in civil services. The gesture was meant as a token of gratitude and respect towards his mentor.
Reactions and Controversy
The video has ignited both appreciation for the IAS officer's humility and reverence and debate over the appropriateness of such gestures within a government office. Some argue that the act exemplifies a personal touch and respect, while others express concerns about maintaining decorum in public service.
As the debate continues, the Delhi government awaits a formal response from Lakshay Singhal to address the concerns raised by this heartwarming yet contentious encounter.
---
The Hindustan Herald Is Your Source For The Latest In Business, Entertainment, Lifestyle, Breaking News, And Other News. Please Follow Us On Facebook, Instagram, Twitter, And LinkedIn To Receive Instantaneous Updates. Also Don't Forget To Subscribe Our Telegram Channel @hindustanherald