A sun-kissed glow is pleasant, but overexposure can result in tanned and damaged skin. Fortunately, there are effective ways to remove tan from your hands and skin and restore your natural tone.
Home Remedies For Tan Removal
To remove tan from your skin and hands, Dr. Anup Dhir, a Senior Consultant Cosmetic Surgeon at Apollo Hospital, Delhi, and Ex-President of the Indian Association of Aesthetic Plastic Surgeons, recommends the following home remedies:
Bengal Gram Flour: Bengal gram flour and turmeric can be used to erase tan.
Papaya Pulp: Mix papaya pulp with honey and apply it for tan removal.
Tomatoes and Yogurt: Blend tomatoes and yogurt, apply to the skin for 20-30 minutes. Yogurt's lactic acid helps soften the skin.
Cucumber Juice and Lemon Juice: Apply this mixture to the skin for tan removal. Pineapple pulp can also be used with honey for the same effect.
Sugar Scrub: Create a scrub by mixing sugar with olive oil or coconut oil and gently massaging it onto your skin in circular motions to exfoliate dead skin cells.
Coffee Grounds: Used coffee grounds mixed with a little water or oil can serve as an effective scrub.
Lemon Juice: Lemon juice is a natural bleaching agent. Apply fresh lemon juice to your skin, leave it on for 10-15 minutes, and then rinse off with water.
Turmeric: Mix turmeric with yogurt or milk to form a paste. Apply this mixture to your skin and leave it on for about 15-20 minutes before rinsing off.
Aloe Vera: Apply aloe vera gel directly to your skin to soothe and heal the skin and reduce the appearance of tan.
Oatmeal: Mix oatmeal with water to form a paste, apply it to your skin, and let it sit for about 15-20 minutes before rinsing off.
Honey: Apply raw honey to your skin; it has natural moisturizing and antibacterial properties.
Sunscreen: Use a broad-spectrum sunscreen with at least SPF 40 when you go outside to prevent further tanning.
Moisturize: Keep your skin well-moisturized, as dry skin tends to hold on to a tan longer.
Hydration: Drink plenty of water, as staying hydrated is important for healthy skin.
Dr. Neha Khuraana, an MD, a Board-certified Dermatologist, and Founder of House of Aesthetics, emphasizes the importance of performing a patch test before trying any of these home remedies to ensure your skin doesn't react negatively to the ingredients.
To perform a patch test:
Take a tiny bit of the remedy and put it on a small, hidden part of your skin, like the inside of your wrist.
Leave it there for the recommended time, then wash it off.
Wait for 24 hours and check for any redness, irritation, or itching.
If your skin remains calm, you can safely use the remedy.
It's important to note that while these remedies are generally effective, they may not work for everyone due to varying skin types. Consulting a dermatologist is advisable to determine the best method for your skin type.
Other Ways To Remove Tan From Hands And Skin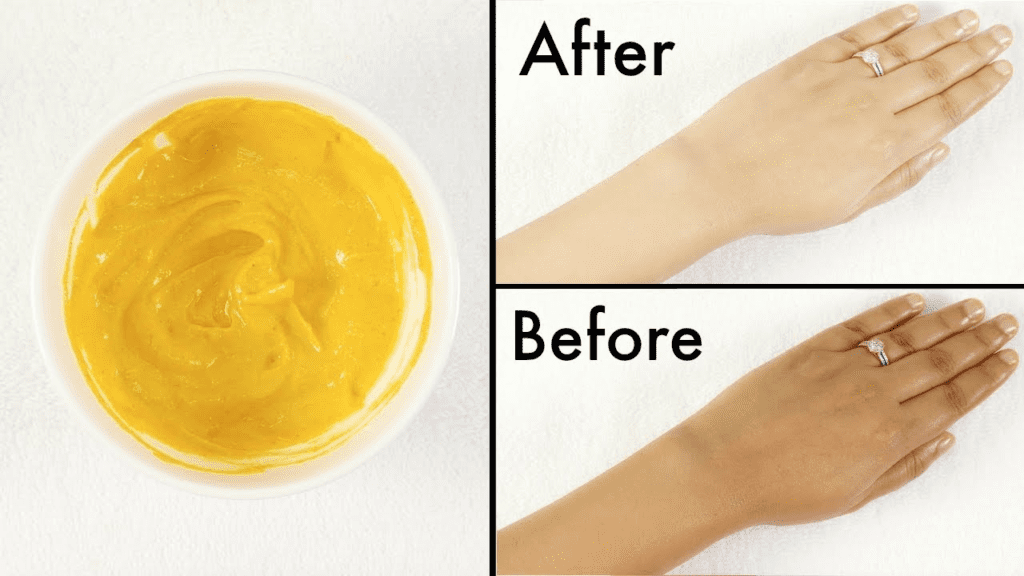 Sandeep Saxena, CEO of Amore Health Essentials Pvt Ltd, suggests additional methods for tan removal:
Exfoliation: Exfoliation is one of the most effective ways to get rid of tan. Use a gently exfoliating scrub or a loofah to slough off dead skin cells, concentrating on areas with tan lines.
Natural Remedies: Lemon juice, honey, or yogurt can be applied as natural bleaching agents to tanned areas for 15-20 minutes before rinsing.
Milk and Turmeric: A mixture of milk and turmeric can be applied to the skin for about 20 minutes before rinsing. Turmeric has anti-inflammatory and skin-lightening qualities, while milk hydrates and nourishes the skin.
Sunscreen: Prevention is better than cure; use a broad-spectrum sunscreen with a high SPF before going outside in the sun to protect your skin from further harm and maintain your natural skin tone.
Remember that individual skin reactions vary, so finding the best method for your skin type is crucial. While working to remove tan from your hands and skin, prioritize overall skin health by following a proper skincare routine and protecting your skin from harmful UV rays. A well-balanced skincare regimen not only helps erase tan but also promotes healthier, more radiant skin.
---
The Hindustan Herald Is Your Source For The Latest In Business, Entertainment, Lifestyle, Breaking News, And Other News. Please Follow Us On Facebook, Instagram, Twitter, And LinkedIn To Receive Instantaneous Updates. Also Don't Forget To Subscribe Our Telegram Channel @hindustanherald