Adagrasib showed promising results when used as a single agent (not in combination with other drugs) in patients with KRAS G12C-mutated non-small cell lung cancer (NSCLC), according to findings from the phase 1/2 KRYSTAL-1 clinical trial presented at the 2022 American Society of Clinical Oncology Annual Meeting.
Dr. Alexander I. Spira, co-director of the Virginia Cancer Specialists Research Institute, director of the Thoracic and Phase I Program, and clinical assistant professor at the Johns Hopkins School of Medicine, presented findings from the trial as of Oct. 15, 2021, at the symposium.
The objective response rate (percentage of patients whose disease shrank as a result of treatment) was 43 percent after a median follow-up of 12.9 months among the 112 patients with quantifiable disease at baseline, with one complete response (no detectable disease) and 47 partial responses. There were 41 patients with stable disease and six with progressing disease (5%), for an 80 percent disease control rate. In exploratory analysis, there were no differences in overall response rate by subgroup.
"The responses appear to be profound, with 75 percent of responders having a tumour decrease of more than 50%," Spira added.
Furthermore, the median time to response with adagrasib, a KRASG12C inhibitor, was 1.4 months, with an 8.5-month median duration of response.
Spira reported that, as of the data cut-off, medication was still being administered to half of the patients who had a response (24 patients), and 33 percent (16 patients) had sustained their response.
Finally, the median progression-free survival (period from treatment until illness worsens) was 6.5 months, with 52 percent and 29 percent progression-free survival rates at six and 12-months, respectively.
Similarly, the average overall survival time was 12.6 months, with 6- and 12-month overall survival rates of 71% and 51%, respectively.
The researchers then looked at efficacy in 33 individuals with treated, stable central nervous system (CNS) metastases. The intracranial total response rate was 33% (11 patients), with five complete responses (15%) and six partial responses (6 individuals) (18 percent ). There were 17 patients with stable disease (52%) for an 85 percent disease control rate (28 patients). The median time between intracranial progression and death was 5.4 months.
Side effects of any severity occurred in 113 patients (97%), with 50 (43%) being severe (grade 3 or grade 4). The most common any-grade adverse effects were diarrhoea (63 percent), nausea (62 percent), vomiting (47 percent), fatigue (41 percent), alanine transaminase increase (28 percent), blood creatinine increase (26 percent), aspartate aminotransferase increase (25 percent), and decreased appetite (24 percent ). There were two deaths: heart failure and pulmonary bleeding.
Side effects caused dose reductions in 60 patients (52%), pauses in 71 patients (61%), and cessation in eight individuals (7 percent ).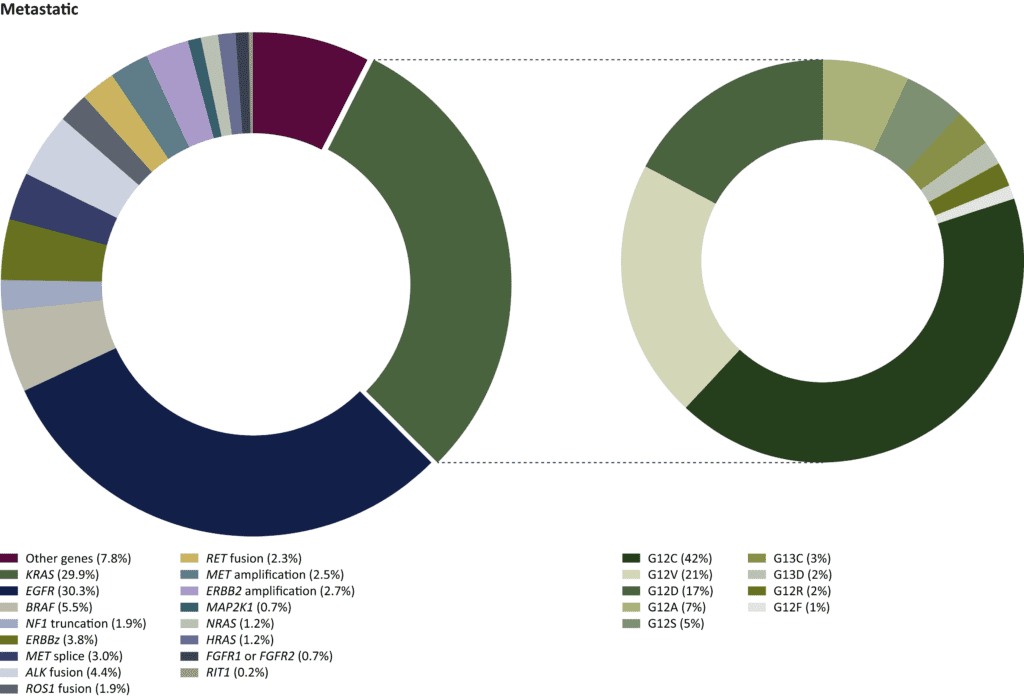 Dr. Sukhmani Kaur Padda of Cedars-Sinai Medical Center's Samuel Oschin Cancer Center commented on the presentation, saying, "I am curious about a lower ideal starting dose." We talk about it all the time in terms of targeted therapy… Co-mutations may aid in the further delineation of therapeutic sequencing in KRAS-mutated non–small cell lung cancer."
Adagrasib, originally MRTX849, inhibits cancer proliferation by permanently and specifically binding KRAS G12C.
Patients with NSCLC who had a KRAS G12C mutation, unresectable or metastatic cancer, and prior treatment with a PD-1/L1 inhibitor in combination or sequence with chemotherapy were key qualifying criteria. Those with treated, stable central nervous system metastases were permitted to participate in the trial.
"Based on these data, the [new drug application] for adagrasib has been accepted and is under review for accelerated approval in the United States, and the (marketing authorization applications) has recently been submitted to the European Medicines Agency," Spira said, adding that the phase 3 KRYSTAL-12 trial, which compares adagrasib monotherapy to docetaxel in previously treated patients with KRAS G12C–mutant NSCLC, is still ongoing.