Delhi, August 9, 2023 | In a significant turn of events, a controversy has erupted surrounding the Delhi Services Bill as five Rajya Sabha MPs demand a Privilege Motion against Aam Aadmi Party (AAP) MP Raghav Chadha. The MPs allege that their names were included in a proposed select committee for the Delhi services bill without their consent. This development has sparked concerns and calls for a thorough investigation into the matter.
The Proposed Select Committee by Raghav Chadha
The controversy centers around a proposed select committee for the Delhi services bill, which was put forth by AAP MP Raghav Chadha. The committee's objective was to examine the intricacies of the bill and provide insights for its effective implementation.
Allegations of Breach of Privilege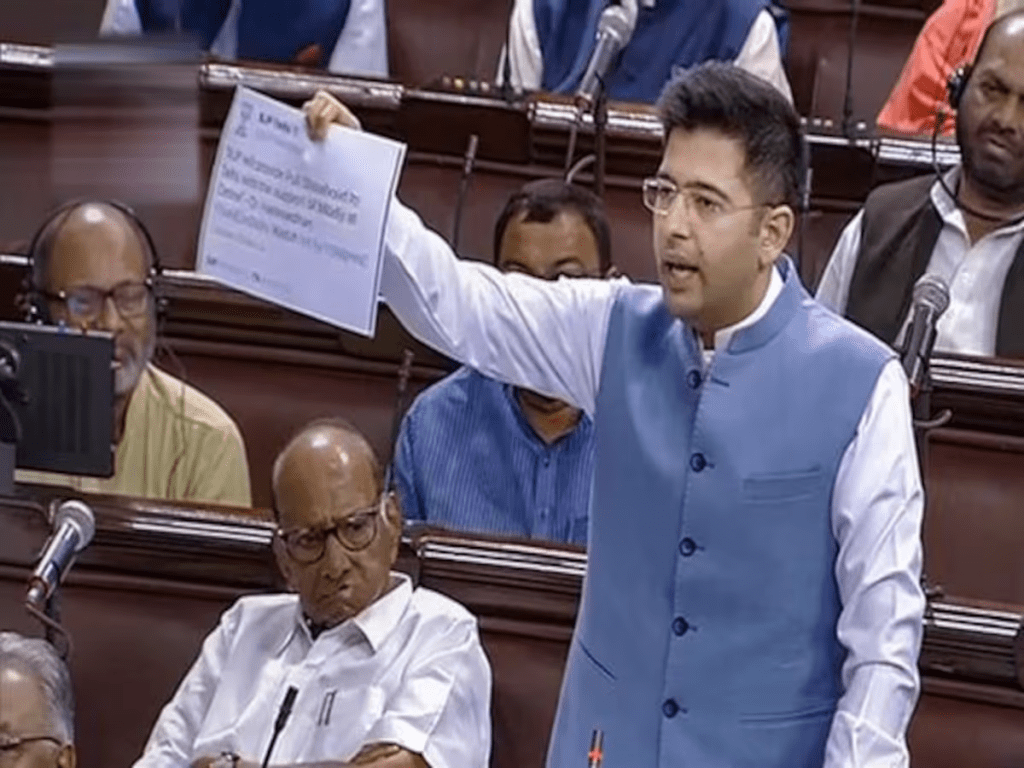 The controversy deepened when five Rajya Sabha MPs, including S Phangnon Konyak, Narhari Amin, Sudhanshu Trivedi, M Thambidurai, and Sasmit Patra, alleged that their names were included in the proposed select committee without their consent. These MPs, hailing from different political parties, collectively raised concerns over their signatures allegedly being forged for inclusion.
Special Committee Convened
In response to the allegations, a special committee meeting has been convened to address the complaints of the five MPs. This meeting, scheduled for Wednesday evening, aims to delve into the matter and ascertain the veracity of the claims made by the MPs.
Acknowledgment and Response
Jagdeep Dhankhar, the Chairman of the Rajya Sabha, acknowledged the breach of privilege case against Raghav Chadha. Responding to the allegations, Chadha stated, "I will give an answer to the Privileges Committee when they send a notice." M Thambidurai, one of the MPs affected, expressed concern over his name being included without his consent, suggesting the possibility of a forged signature.
Home Minister's Involvement
The controversy took a political turn when Home Minister Amit Shah became involved. On a previous occasion, after the deputy chairman read out the names to be included in the proposed select committee, Shah highlighted that five members had raised objections to their names being included without their signatures. Shah termed this situation a breach of privilege and called for an investigation into the matter.
Path Forward
As the controversy unfolds, the Rajya Sabha deputy chairman has assured that the complaints raised by the MPs will be thoroughly investigated. The exact agency responsible for the investigation and the anticipated timeframe for completion remain to be determined.
The unfolding controversy has highlighted the delicate balance between parliamentary procedures and individual rights, raising questions about the integrity of the process and the importance of upholding parliamentary privileges. As the special committee meeting approaches, all eyes are on the developments that will follow. Stay tuned for updates on this evolving story.
---
The Hindustan Herald Is Your Source For The Latest In Business, Entertainment, Lifestyle, Breaking News, And Other News. Please Follow Us On Facebook, Instagram, Twitter, And LinkedIn To Receive Instantaneous Updates. Also Don't Forget To Subscribe Our Telegram Channel @hindustanherald