COVID, According to a speaker at the Heart in Diabetes CME conference, the CV problems of COVID-19 are broad, and the implications can be especially severe in individuals with HF.
Many HF patients are already at a higher risk of COVID-19 complications due to impaired immunity, fragility, and "impaired hemodynamic ability to cope with more serious infections, including those involving the lungs," according to Goldberg. They may also have comorbidities associated with worse COVID-19 outcomes, such as diabetes, obesity, kidney disease, and elevated levels of lung fluid.
HF can also appear in patients who did not have it prior to using COVID-19, according to Goldberg. According to him, this could be due to myocarditis, MI, or right ventricular failure in the form of pulmonary hypertension or pulmonary embolism.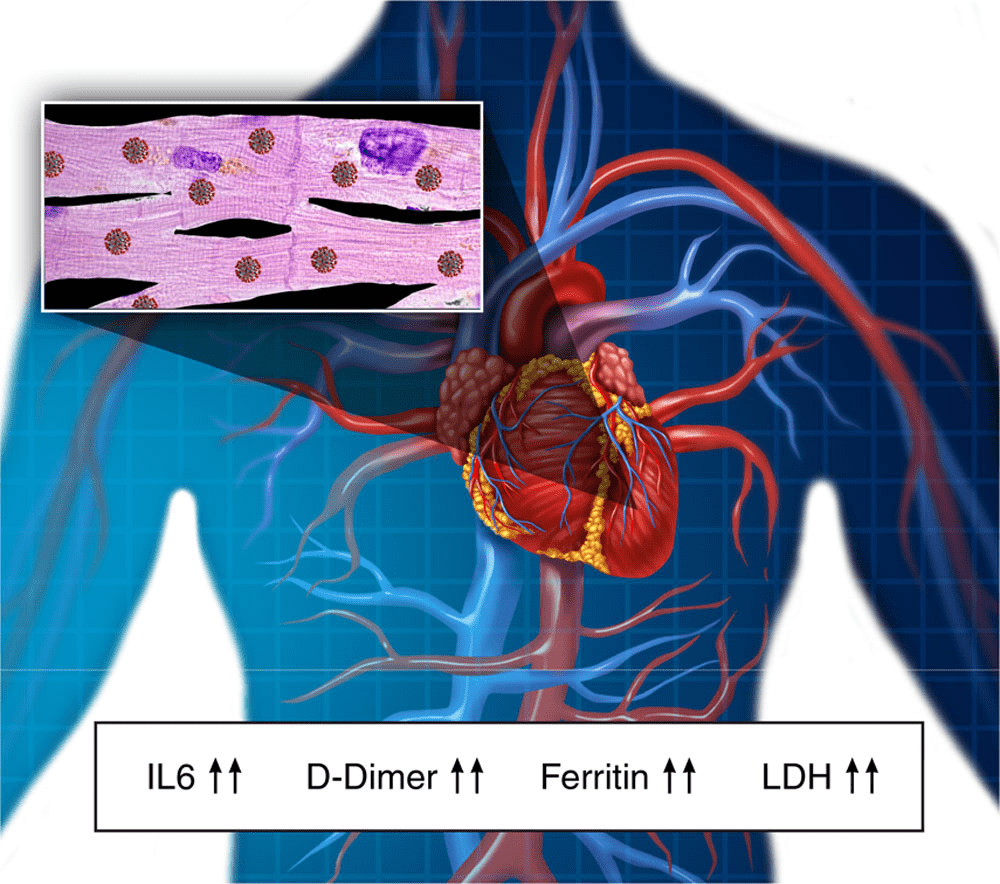 CONTROVERSIAL MYOCARDITIS
COVID-19-induced myocarditis "has been one of the more scary aspects of the pandemic and has sparked debate," Goldberg added. "There are several guidelines for dealing with this."
Because of the contradicting findings, the American College of Cardiology released a single expert consensus decision path on COVID-19-induced myocarditis therapy, he explained. The document documented the symptoms to be noted as well as the approaches used to validate the diagnosis.
"There was a lot of debate with young male athletes who developed heart inflammation and were told they couldn't play," Goldberg explained. "The fear was that heart inflammation considerably reduces the threshold for abrupt cardiac mortality." As a result, the ACC paper provided instructions on when an athlete could return to the game.
According to one study, the incidence of myocarditis caused by COVID-19 in people under the age of 20 is 450 per 1 million, "although many of these people have inadequate assessments," Goldberg noted. "The good news is that in the general population, fulminant myocarditis is quite rare."
MECHANISMS AFFECTING THE HEART
According to him, the mechanisms of COVID-19 heart injury include systemic inflammatory response syndrome, oxygen-supply-demand ischemia, ACE-2-mediated direct damage, and cardiac microvascular damage.
SARS-CoV-2 remains outside the heart cells in the majority of COVID-19-induced myocarditis patients, "suggesting that COVID-19 itself may not be especially cardiotropic." This becomes significant when we discuss immunizations. and myocarditis," Goldberg explained. "Vaccines can cause myocarditis since it is the immunological reaction to the virus that causes myocarditis, not the virus itself." Perhaps that is the direction we should take."
According to him, neither the severity of COVID-19 nor pre-existing CV risk factors indicate cardiac involvement.
He explained that normal HF medicine is commonly used to treat COVID-19-induced myocarditis, and that some patients may require mechanical circulatory support.
If pericardial involvement is suspected, nonsteroidal anti-inflammatory drugs, colchicine, and prednisone are used, while IV corticosteroids can be used if the patient has COVID-19-induced myocarditis and is hemodynamically compromised or has MIS-A, and empirical corticosteroids can be used in patients with shock, according to Goldberg.
Myocarditis following COVID-19 immunisation is uncommon, and when it occurs, it mainly occurs in young males, usually after the second dose. It should be diagnosed in the same way as COVID-19-induced myocarditis, according to Goldberg, "but the findings look to be very, very good."
If a thrombotic aetiology is suspected, he recommends anticoagulation.
TRANSPLANT PATIENT CONSIDERATIONS
The death rate among patients with heart transplants who receive COVID-19 is approximately 25%, but corticosteroids appear to help this population, and those who are vaccinated usually fare better, he said. He also stated that the death rate for patients using ventricular assist devices with COVID-19 is around 15%.
Patients with advanced heart failure should be vaccinated against COVID-19 if possible before receiving a heart transplant, according to Goldberg, because the reaction is not as good in the first year following the transplant. If vaccine is administered after transplantation, he recommends only three doses followed by a booster later, as this technique improves response. He noted that the monoclonal antibodies tixagevimab and cilgavimab can be given to this population every 6 months.
Monoclonal antibodies, remdesivir (Veklury, Gilead Sciences), and dexamethasone appear to be the best therapy for COVID-19 patients with heart transplants. According to Goldberg.
"COVID-19 is linked to a multitude of cardiovascular problems, and inflammation appears to be the unifying mechanism," Goldberg added. "Even with counseling, it can last up to 12 months." Myocarditis is usually mild, although it can be severe; however, the vast majority of patients recover. Thrombotic problems are prevalent and can result in a stroke or a heart attack. Heart transplant recipients are exceedingly vulnerable. "Prophylaxis, even with monoclonal antibodies and pre-transplant vaccination, is important to protect this population against COVID-19 morbidity and mortality."