In a courageous display of rescue operations, the Indian Coast Guard successfully conducted a mid-air medical evacuation of a Chinese national aboard the Panama-flagged research vessel MV Dong Fang Kan Tan No 2. The vessel, en-route from China to the UAE, became the site of a critical medical emergency as the patient exhibited chest pain and symptoms of cardiac arrest.
Coast Guard Advanced Light Helicopter (CG ALH) and CGAS Daman Step In
The intricate operation, executed by the Coast Guard Advanced Light Helicopter (CG ALH) and CGAS Daman, unfolded in the dark hours of a Wednesday, amidst challenging weather conditions in the Arabian Sea. The distressing situation prompted immediate action, and the Indian Coast Guard's relentless commitment to maritime safety shone through.
Heroic Mid-Air Evacuation Saves a Life at Sea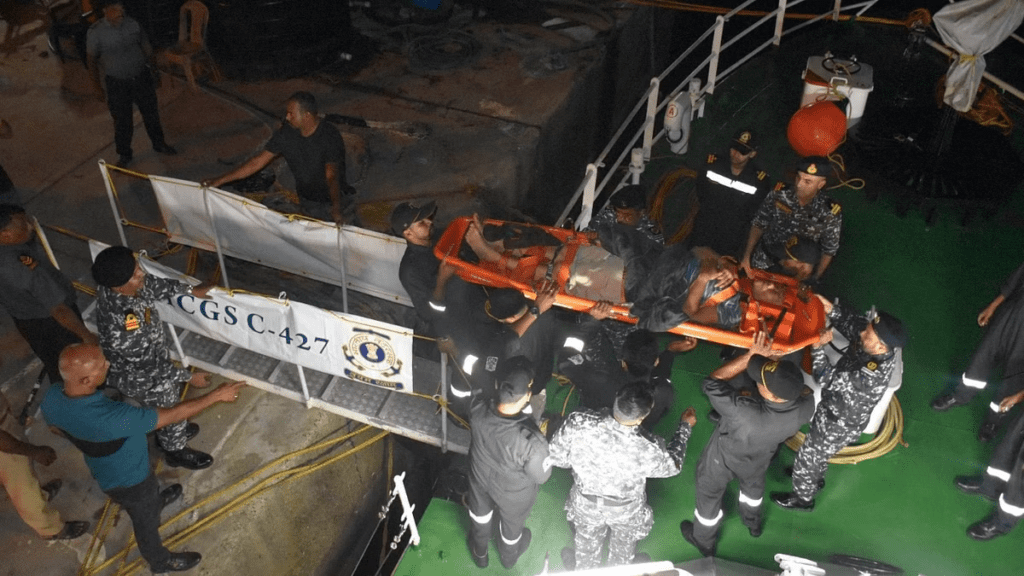 The Indian Maritime Rescue Coordination Centre in Mumbai received a distress call reporting a crew member's cardiac arrest with elevated blood pressure, necessitating urgent medical intervention. Swift communication was established with the vessel, enabling telemedicine advice to be promptly dispatched. Considering the urgency, the patient was airlifted by CG ALH MK-III, effectively ensuring the safety of the patient and demonstrating the Coast Guard's rapid response capabilities.
A Nighttime Triumph in Treacherous Waters
Undergoing first-aid procedures, the patient was subsequently handed over to medical authorities for further management. The strategic and skillful operation by CG ALH and CGAS Daman, executed in the cover of night, showcased the dedication of the Indian Coast Guard in safeguarding lives, particularly in the face of adversity.
Upholding the Motto: "We Protect"
This remarkable incident follows a recent successful medical evacuation mission, where the Indian Coast Guard rescued a critically ill mariner aboard MVEvelynMaersk. The mariner's collapsed state necessitated immediate hospitalization during a journey to the Suez Canal, a testament to the Coast Guard's proficiency in handling such exigencies.
---
The Hindustan Herald Is Your Source For The Latest In Business, Entertainment, Lifestyle, Breaking News, And Other News. Please Follow Us On Facebook, Instagram, Twitter, And LinkedIn To Receive Instantaneous Updates. Also Don't Forget To Subscribe Our Telegram Channel @hindustanherald