New Delhi: Kriti Sanon is basking in the glory of her recent victory at the 69th National Film Awards held on Thursday, August 24. The accomplished actress secured the prestigious 'Best Actress' Award for her outstanding portrayal in the film 'Mimi.' This accolade marks a remarkable milestone in her decade-long journey in the industry.
A Grateful Pilgrimage
Kriti Sanon, radiant and jubilant after her remarkable achievement, embarked on a spiritual journey to the Siddhivinayak Temple. The temple visit was an expression of her gratitude and reverence for her success. Just a day after her triumphant win, the leading actress was captured visiting the Siddivinayak Temple, accompanied by her family. Seeking blessings from Lord Ganesha, she offered her prayers as a gesture of thankfulness for her monumental accomplishment.
Elegance and Joy Amidst Devotion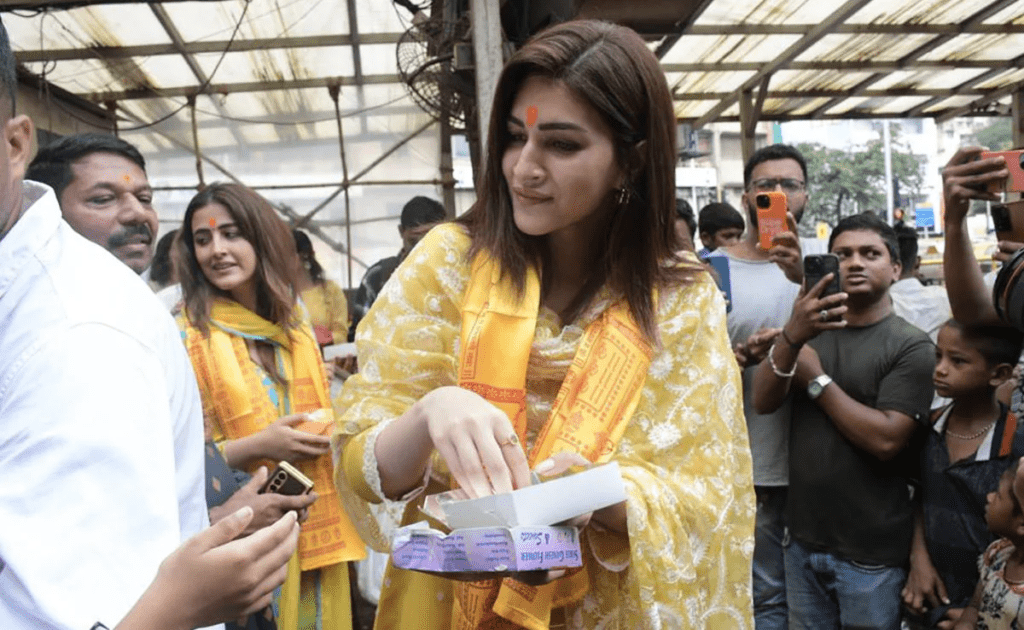 During her temple visit, Kriti Sanon exuded natural beauty and elegance as she donned a stunning yellow suit. Amidst the congratulatory messages from the paparazzi, she graciously shared prasad, exhibiting her down-to-earth nature. The actress also interacted with young admirers, engaging with them and sharing her happiness.
'Mimi': A Defining Role
'Mimi,' the film that brought Kriti Sanon this prestigious recognition, has solidified its place as an iconic piece of Indian cinema. Kriti's impeccable portrayal of the titular character resonated deeply with audiences. From her captivating dance number "Param Sundari" to her fearless and upfront personality, as well as the compelling character arc she portrayed, Kriti's performance truly captivated audiences and established her as a prominent and versatile performer.
Expressing Gratitude and Extending Congratulations
Kriti Sanon took to Instagram to express her heartfelt gratitude for the accolade. She thanked the director of 'Mimi,' Laxman Utekar, the jury, and her family members for their unwavering support. Additionally, she extended her warm congratulations to Alia Bhatt, who shared the 'Best Actress' honor with her for her performance in 'Gangubai Kathiawadi.'
Upcoming Ventures
Looking ahead, Kriti Sanon's fans can anticipate her presence in diverse roles. She is set to star in 'Ganapath part 1,' a futuristic love story alongside Shahid Kapoor. Moreover, she will feature in 'The Crew' alongside Kareena Kapoor Khan. Adding a new dimension to her career, she ventures into production with 'Do Patti,' where she will also play the lead role alongside Kajol.
A Promising Future
As Kriti Sanon continues to shine in the film industry, her recent accolade serves as a testament to her dedication and talent. Her journey from her debut in 'Heropanti' to becoming an esteemed actress and star is a story of perseverance and success.
---
The Hindustan Herald Is Your Source For The Latest In Business, Entertainment, Lifestyle, Breaking News, And Other News. Please Follow Us On Facebook, Instagram, Twitter, And LinkedIn To Receive Instantaneous Updates. Also Don't Forget To Subscribe Our Telegram Channel @hindustanherald