Devastation struck Shimla's Krishnanagar amid relentless rains in Himachal Pradesh, triggering a catastrophic landslide. Witnessed by a distraught six-year-old, the tragedy caused extensive damage to life and property.
Residents in Chaos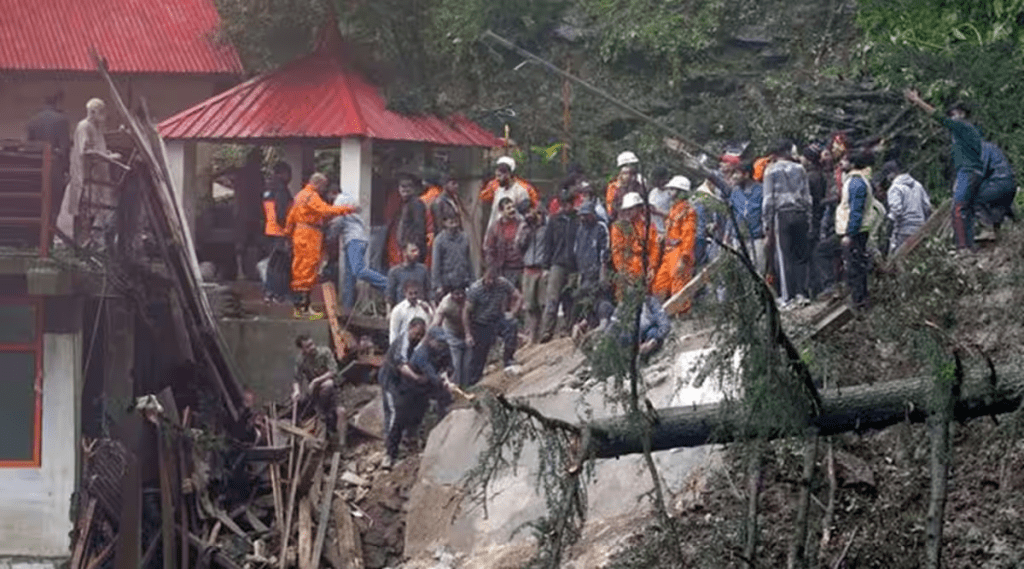 As the horrifying landslide hit on Independence Day, residents fled their homes amidst chaos. The region was left in ruins, with several houses and buildings reduced to rubble. Over 30 people lost their lives in the Shimla district, contributing to a death toll of 72 across the state.
A Daughter's Fear
Amid the catastrophe, a six-year-old girl asked her parent, "Will we also die? Will our house break, papa?" Her innocent questions echoed the fear and uncertainty of the tragic event.
Loss and Grief
The landslide in Krishnanagar locality added to the sorrow, as two young girls lost their lives in a landslip earlier that week. The city mourned the loss of these lives, highlighting the devastating impact of the natural disaster.
Desperate Search
The aftermath brought scenes of despair, with people searching for loved ones amid the debris. An employee from a local slaughterhouse was among those desperately seeking his manager, while a woman ran barefoot in search of her husband.
Challenges for Rescuers
Rescue workers faced challenges as they navigated the treacherous conditions. The path was far from easy, with mudslides continuing to pose threats. One rescue worker even pleaded, "Should I touch your feet, only then would you leave?" in efforts to keep locals safe.
City in Ruins
The capital city of Himachal Pradesh, battered by days of rain, was marked by destruction. Fallen trees, snapped power lines, and cracked roads dotted the landscape. Several buildings remained at risk, adding to the turmoil.
---
The Hindustan Herald Is Your Source For The Latest In Business, Entertainment, Lifestyle, Breaking News, And Other News. Please Follow Us On Facebook, Instagram, Twitter, And LinkedIn To Receive Instantaneous Updates. Also Don't Forget To Subscribe Our Telegram Channel @hindustanherald