As the vibrant state of Kerala eagerly anticipates the onset of Onam, its annual harvest festival, an extraordinary celebration of culture and tradition comes to life. Amid the festive air that envelops the land from August 20 to August 31, Kerala's classical dance forms ascend to the forefront, weaving tales of the region's rich cultural heritage. These captivating performances are more than just art; they encapsulate the very essence of Onam and serve as a testament to Kerala's artistic legacy.
Expressive Narratives Through Dance: A Glimpse into Kerala's Treasured Dance Forms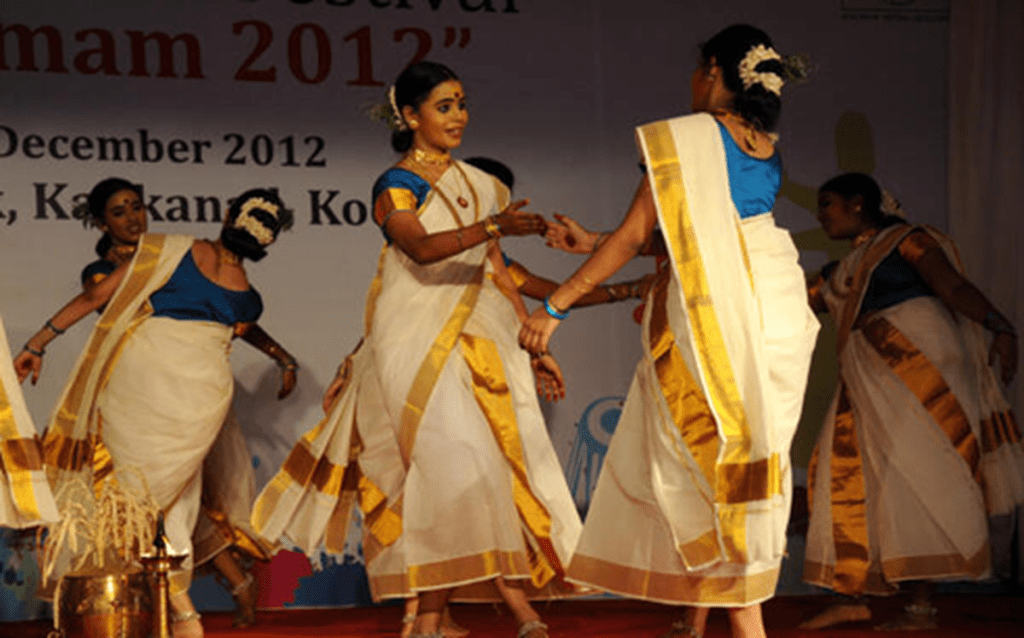 Kerala's classical dance forms are more than mere artistic expressions; they are intricate storytellers that convey myths, legends, and emotions. These dances, adorned with music, expressions, and elaborate costumes, resonate deeply within the hearts of Kerala's people. As Onam 2023 approaches, let's delve into the enchanting dance traditions of the region:
Kathakali: The Drama of Elegance and Expression
Rooted in history, Kathakali stands tall as one of Kerala's most iconic classical dance forms. A masterful blend of dance, music, acting, and ornate make-up, Kathakali unveils poignant narratives through intricate hand gestures and evocative facial expressions. During Onam, Kathakali becomes a vessel for recounting legendary tales from Indian epics and the Mahabali legend, adding depth to the festival's cultural significance.
Mohiniyattam: Grace in Motion
Celebrated for its graceful and lyrical movements, Mohiniyattam predominantly graces the stage through the performances of women. This dance form elegantly weaves narratives through flowing motions, intricately connecting with Onam's spirit by narrating stories linked to King Mahabali and the festival's mythological essence.
Koodiyattam: Ancient Tales in Living Art
A UNESCO Intangible Cultural Heritage, Koodiyattam is among the world's oldest classical theater forms. This ritualistic performance showcases stories from Hindu epics and Puranas through meticulously crafted costumes and makeup. While not exclusive to Onam, specific Koodiyattam tales are artistically presented during the festivities, immersing spectators in the cultural heritage of the land.
Thiruvathirakali: A Celebration of Womanhood
Thiruvathirakali, a traditional group dance, features graceful circular movements and rhythmic clapping. Predominantly performed by women under the moonlit skies, this dance celebrates the spirit of womanhood, aligning perfectly with Onam's cultural ethos.
Chakyar Koothu: The Humorous Narrator
While not a traditional dance form, Chakyar Koothu plays a vital role in Kerala's performance arts. Performed solo, it involves humorous and dramatic narration of episodes from epics such as the Ramayana and the Mahabharata. Its presence adds a unique and entertaining touch to the grandeur of Onam celebrations.
Ottamthullal: Poetry in Motion
Crafted by the esteemed Malayalam poet Kunchan Nambiar, Ottamthullal seamlessly merges dance, song, and satire to narrate stories in a light-hearted manner. During Onam, these performances often center around jovial themes, bringing delight to audiences and contributing to the festive atmosphere.
A Living Heritage: Kerala's Dance Forms and the Essence of Onam
These classical dance forms are more than mere performances; they are a reflection of Kerala's cultural grandeur. Beyond enhancing the state's artistic legacy, they capture the very essence of Onam. Their presence is a testimony to the profound significance of tradition, enveloping the land in exuberance during this auspicious period. As the 'tiger dance,' or Puli Kali, infuses folkloric energy into the celebrations, it is unmistakably clear that Kerala's dance traditions hold a pivotal role in preserving and honoring the timeless traditions of Onam.
---
The Hindustan Herald Is Your Source For The Latest In Business, Entertainment, Lifestyle, Breaking News, And Other News. Please Follow Us On Facebook, Instagram, Twitter, And LinkedIn To Receive Instantaneous Updates. Also Don't Forget To Subscribe Our Telegram Channel @hindustanherald