Stepping onto the red carpet is a journey into the realm of enchantment and style, where fashion transcends mere clothing and transforms into an art form. Let's delve into the mesmerizing world of haute couture and designer creations that have graced Hollywood's most prestigious events. Beyond the dazzling flash of cameras lies a universe of meticulous craftsmanship, bold choices, and the timeless allure of garments that become forever etched in the tapestry of pop culture.
Unveiling Iconic Ensembles: Stories That Shaped Fashion History
From Cardi B's timeless elegance to Halle Berry's avant-garde statements, join us as we unravel the stories behind these iconic ensembles, revealing how they have not only adorned the stars but have also shaped the very fabric of fashion history.
Where Fashion Meets Technology: Privacy Policy and Personalized Recommendations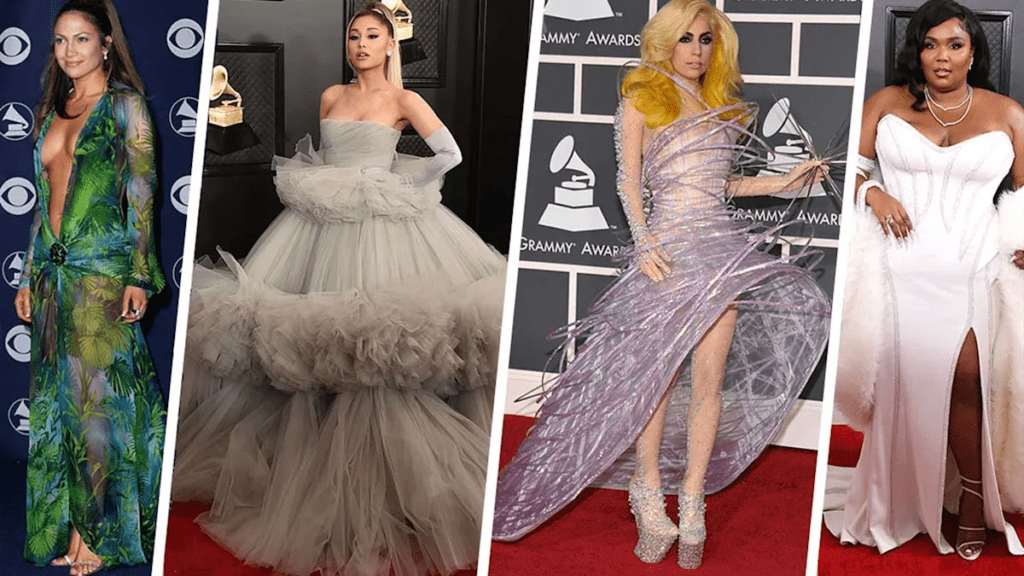 This website uses cookies or similar technologies, to enhance your browsing experience and provide personalized recommendations. By continuing to use our website, you agree to our Privacy Policy.
Glamour Beyond the Carpet: The Intersection of Art and Fashion
In this exploration of the glamour behind iconic red carpet looks, let's have a look at the meticulous craftsmanship, the visionary designers, and the cultural impact that collectively transform a mere outfit into an indelible cultural phenomenon.
Rihanna's Regal Fusion: A Glimpse of China on the Red Carpet
In 2015, Rihanna turned heads and ignited conversations at the Met Gala with her show-stopping ensemble that perfectly embodied the event's theme, "China: Through the Looking Glass." She graced the red carpet wearing a golden yellow Guo Pei couture gown that effortlessly blended traditional Chinese elements with contemporary extravagance.
Tracee Ellis Ross: The Elegance of Modern Sophistication
At the 2018 Emmys, Tracee Ellis Ross exuded a radiant aura of modern sophistication in her show-stopping ensemble. She graced the red carpet wearing a breathtaking pink Valentino Haute Couture gown that elegantly merged vintage charm with contemporary flair.
Zendaya's Fairytale Fusion: A Cinderella Moment
In 2019, Zendaya graced the Met Gala with a look that seamlessly fused fashion with history. Channeling Cinderella's enchanting transformation, Zendaya wore a custom Tommy Hilfiger powder blue ballgown.
Cardi B's Daring Extravaganza: Vintage Glamour Meets Contemporary Twist
At the 2019 Grammy Awards, Cardi B's unforgettable ensemble captured both elegance and daring with a touch of extravagance. She stunned in a vintage-inspired, blush-toned Thierry Mugler gown.
Jennifer Lawrence's Timeless Beauty with a Modern Edge
At the 2013 Oscars, Jennifer Lawrence captivated onlookers with a breathtaking ensemble that perfectly encapsulated elegance and modernity. The silver Dior Haute Couture gown draped flawlessly over her frame, accentuating her curves while maintaining an air of sophistication.
Blake Lively's Timeless Elegance at Cannes
At the esteemed Cannes Film Festival, Blake Lively exuded timeless elegance in a mesmerizing Chanel Couture Dress that left spectators in awe. The dress, a masterful creation by the iconic fashion house, featured intricate floral lacework cascading down a fitted bodice, leading to a dramatic and voluminous tulle skirt that swept the floor with grace.
Halle Berry's Mesmerizing Sensuality
In her iconic appearance at the 74th Academy Awards in 2002, Halle Berry's ensemble was nothing short of mesmerizing. She donned a breathtaking Elie Saab burgundy gown that exuded both elegance and sensuality, its intricate embroidery gracefully accentuating her silhouette.
Bjork's Avant-Garde Artistry: Redefining Red Carpet Fashion
In her iconic appearance at the 73rd Academy Awards in 2001, Icelandic artist Björk captivated the red carpet with a daring and avant-garde ensemble that perfectly encapsulated her artistic essence. She wore a swan-inspired dress, an ethereal creation designed by Macedonian fashion designer Marjan Pejoski.
The Power of Iconic Looks: A Testament to Creativity and Passion
The true magic lies not only in the shimmering gowns and impeccable suits but in the stories they tell and the emotions they evoke. These iconic looks are more than just fabric and design; they are a testament to the creativity, passion, and dedication of designers, stylists, and celebrities alike.
A Legacy of Influence: Fashion, Culture, and Elegance
As we delve into the history of wardrobe wonders that have graced the red carpet, we uncover not only the glamour but also the profound influence these looks have on fashion and culture. With every sequin and stitch, a new chapter of elegance and artistry is written, leaving an indelible mark on the intersection of fashion and fame.
---
The Hindustan Herald Is Your Source For The Latest In Business, Entertainment, Lifestyle, Breaking News, And Other News. Please Follow Us On Facebook, Instagram, Twitter, And LinkedIn To Receive Instantaneous Updates. Also Don't Forget To Subscribe Our Telegram Channel @hindustanherald