In a unfortunate incident, a road in Mandi, Himachal Pradesh, suffered a collapse, leading to a bus accident and causing injuries to numerous individuals. The incident occurred due to the road damage caused by heavy rainfall and subsequent landslides.
Road Collapse Triggers Bus Accident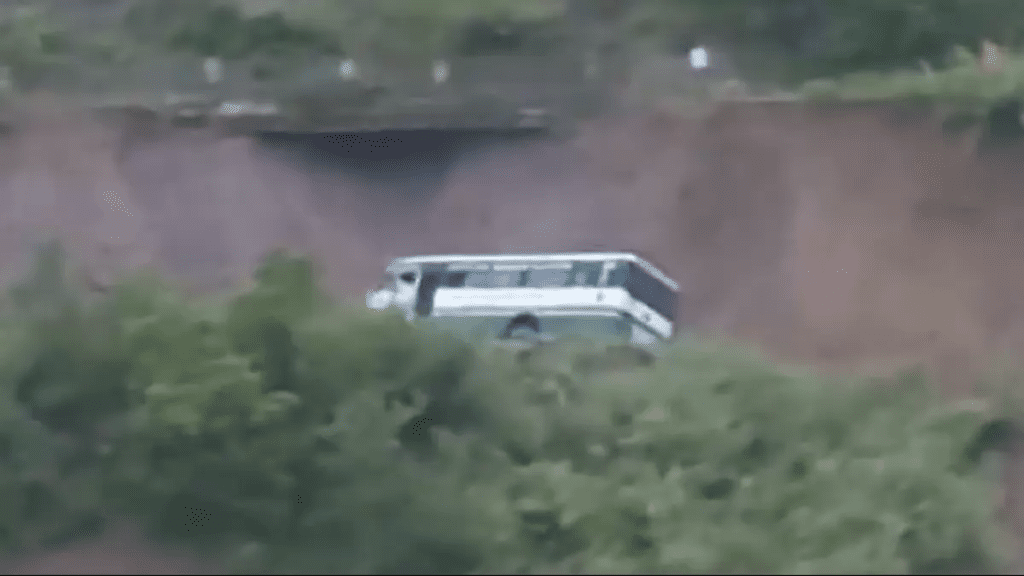 The incident involved a Himachal Road Transport Corporation (HRTC) bus from the Sundernagar unit. The bus was en route to Shimla when the road gave way, causing the vehicle to meet with an accident. Four passengers on the bus sustained serious injuries, and an additional 12 individuals suffered minor injuries, as reported by ANI.
Aftermath of the Accident
The road collapse occurred on a stretch between Sundernagar and Shimla, according to PTI. The injured individuals were promptly moved to a hospital, and further details about their condition are awaited. Notably, the Kalka-Shimla highway stretch had recently been reopened for light vehicles after being blocked by landslide debris. The region of Himachal Pradesh has been grappling with significant damages due to the relentless monsoons this year.
Ongoing Restoration Efforts
Jagat Singh Negi, the Revenue and Horticulture Minister of Himachal Pradesh, shared that over 200 roads in the area are still closed due to damages, with restoration efforts in progress. The losses incurred on a daily basis are substantial. The damage caused by the ongoing monsoons has resulted in a staggering loss of at least Rs 6,000 crore. Tragically, the death toll has risen to at least 234 individuals. The devastation has extended to property, with 900 houses fully damaged and 7,500 houses partially affected.
Impact on Agriculture
The adverse weather conditions have not spared the agricultural sector. Horticulture crops and orchards have suffered significant damage due to the rain and landslides. Furthermore, the damaged roads have posed a challenge to apple transportation, leaving farmers unable to send their harvested crops to other states.
The incident in Mandi serves as a stark reminder of the challenges posed by the monsoon season in Himachal Pradesh. The road collapse and subsequent bus accident highlight the urgency of infrastructure maintenance and disaster preparedness in the face of such natural calamities. The ongoing restoration efforts and resilience of the local communities are crucial factors in mitigating the impact of such incidents. Stay tuned for further updates on this developing story.
---
The Hindustan Herald Is Your Source For The Latest In Business, Entertainment, Lifestyle, Breaking News, And Other News. Please Follow Us On Facebook, Instagram, Twitter, And LinkedIn To Receive Instantaneous Updates. Also Don't Forget To Subscribe Our Telegram Channel @hindustanherald