Indulging in delectable desserts doesn't have to mean compromising your healthy eating goals. With a little creativity and some smart ingredient swaps, you can enjoy age-old treats that are both delicious and diet-friendly. In this article, we'll delve into mouth-watering dessert options that allow you to indulge guilt-free.
Berry-licious Parfait: A Burst of Freshness and Creaminess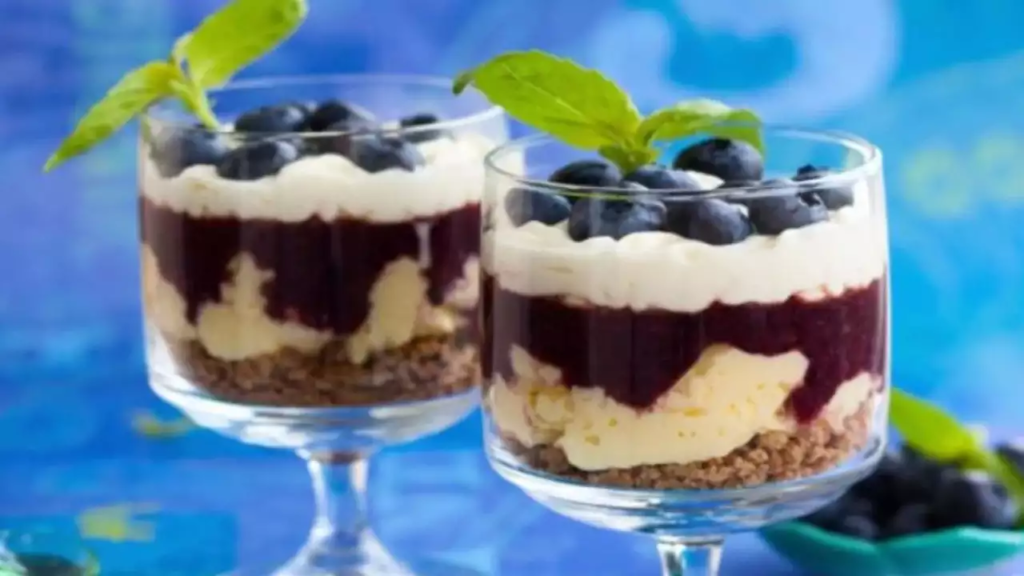 Layering fresh berries like strawberries, blueberries, and raspberries with low-fat Greek yogurt and a sprinkle of granola creates a delightful parfait. The natural sweetness of the berries combined with the creaminess of the yogurt satisfies your cravings without excessive added sugars.
Avocado Chocolate Mousse: Decadence Meets Nutrient Powerhouse
Avocado isn't just for savory dishes. Blend ripe avocado with unsweetened cocoa powder, a touch of honey or maple syrup, and a splash of almond milk to create a rich and creamy chocolate mousse. Packed with healthy fats and antioxidants, it's a guilt-free treat that's both satisfying and nourishing.
Baked Apple with Cinnamon: Comfort in Simplicity
Baked apples offer a warm and comforting dessert option. Core an apple, sprinkle it with cinnamon, and bake until tender. The natural sugars caramelize, resulting in a sweet and fragrant dessert that's simple yet satisfying.
Frozen Banana Bites: A Crunchy and Sweet Delight
Slice bananas into bite-sized pieces, dip them in melted dark chocolate, and freeze until the chocolate hardens. These frozen banana bites provide a satisfying crunch, while the natural sugars in the bananas curb your sweet cravings.
Oatmeal Raisin Energy Balls: Wholesome and Chewy Goodness
Blend oats, dates, raisins, and a touch of vanilla extract in a food processor. Roll the mixture into small energy balls and refrigerate. These bitesize treats offer a chewy texture and a hint of sweetness without refined sugars.
Dark Chocolate-Dipped Strawberries: A Luxurious and Health-Conscious Classic
Dark chocolate contains antioxidants and is lower in sugar than milk chocolate. Dip fresh strawberries in melted dark chocolate and let them cool until the chocolate hardens. This classic dessert combo is both luxurious and health-conscious.
Satisfying Indian Dessert Alternatives
While these desserts may sound delicious, some might not cater to the Indian sweet-loving taste buds. Worry not! Here's a list of healthy Indian desserts that you and your loved ones can devour guilt-free.
Saffron-Infused Rice Pudding (Kesar Phirni): A Luxurious Upgrade
Phirni, a beloved Indian dessert, gets a luxurious upgrade with the addition of saffron. This aromatic spice not only imparts a beautiful golden hue but also offers a subtle flavor that complements the creamy rice pudding. Opt for a recipe that uses a natural sweetener like honey or dates to keep the sugar content in check.
Date and Nut Ladoo: Healthier Spheres of Sweetness
Ladoos are spherical sweets often made with sugar and ghee, but a healthier version can be created using dates and assorted nuts. Dates provide natural sweetness and bind the ingredients together, while nuts offer a satisfying crunch and a dose of healthy fats.
Fruit-Infused Yogurt Parfait (Mishti Doi Parfait): Light and Refreshing Twist
Mishti Doi is a traditional Bengali dessert, but you can create a lighter version by layering Greek yogurt with fresh fruits like mango, berries, or pomegranate seeds. This dessert not only offers probiotics from the yogurt but also a burst of vitamins and antioxidants from the fruits.
Coconut Cardamom Chia Pudding: Tropical Delight with a Twist
Chia seeds are a nutritional powerhouse, and when combined with the tropical flavors of coconut and the warmth of cardamom, they create a delightful dessert. Chia pudding thickened with coconut milk can be sweetened with a touch of jaggery or maple syrup.
Baked Gujiya with Nut Filling: Guilt-Free Festival Treat
Gujiya, a deep-fried sweet often enjoyed during festivals, can be just as delicious in a baked version. Fill the pastry with a mixture of dried fruits, nuts, and a hint of spices for a guilt-free treat that retains the essence of the traditional dish.
Ragi (Finger Millet) Halwa: Hearty and Sweet Nutrient Boost
Swap refined flours for ragi, a nutrient-dense millet, to create a halwa that's both hearty and sweet. Ragi is a good source of fiber and contains essential nutrients, making this dessert a healthier alternative to the classic semolina-based halwa.
Indulgence Without Guilt
Indulging in decadent desserts doesn't have to lead to feelings of guilt or sabotage your diet progress. By choosing ingredients wisely, incorporating healthier options, and practicing moderation, you can enjoy sweet treats without compromising your commitment to eating well. These dessert ideas offer a delicious way to reward yourself while staying on track with your health and wellness goals.
---
The Hindustan Herald Is Your Source For The Latest In Business, Entertainment, Lifestyle, Breaking News, And Other News. Please Follow Us On Facebook, Instagram, Twitter, And LinkedIn To Receive Instantaneous Updates. Also Don't Forget To Subscribe Our Telegram Channel @hindustanherald