At all times of the year, the wealthy hold Kanwar Yatra, VIP processes, or 'baraats' in public spaces. Nobody even blinks.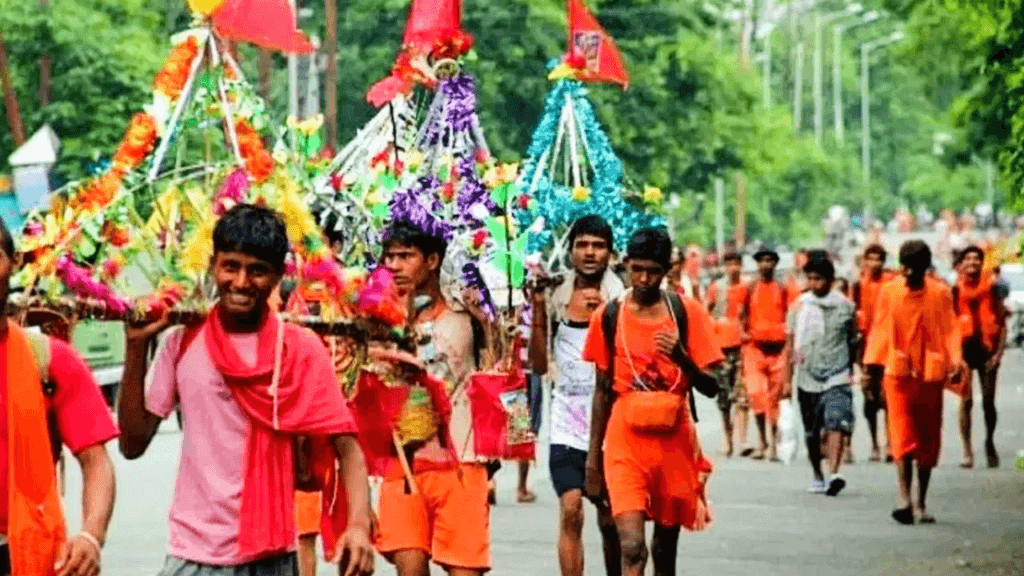 'Shiv Bhakts,' also known as 'Kanwariyas,' take over the roads of the National Capital Region (NCR) while carrying gangajal on their shoulders from Haridwar to their respective homes for Kanwar Yatra. The majority of them walk the entire Kanwar Yatra, making it a very difficult expedition.
Naturally, local government bodies, would-be minor politicians, and those in God's service arrange for rest stops along the route, allowing weary travellers to rest their tired feet and tummies and replenish their depleted energy levels. At each major entryway and crossing into the city, banners welcome the holy "warriors." The banners feature the Prime Minister, the Home Minister, and the Chief Minister. Every modern state owes its citizens the same courtesy that the Kanwariyas received from the state apparatus, particularly the police en route.
Also Read: In Prison, Zubair Found Hope: 'More Interactions Can Change People.'
The Disgrace Of "Traffic Congestion" Caused By Kanwar Yatra
Those individuals are fierce fighters. If you still need convincing, watch a Kanwariya waving a baseball bat and directing traffic to stop or move. Kanwariyas are not subject to stop or yield signs. The leader is the 18-year-old with the baseball bat in his hand, and he is expected to keep the commuters in line by staring them down with military intensity. The police are involved, but only as an afterthought. Furthermore, rather than stealing the show from the main cast, they stand out in their own right.
It's also the time of year when "well-meaning, compartmentalised, and concerned members of society" complain, and rightly so, about how Kanwariyas have seized public space and disrupted traffic flow, even threatening commuters in their cars. "Ambulance Bhi Nahi nikal paati, agar koi serious ho to kaise hospital pahunche," they say (how will anyone get to the hospital if they are seriously ill?). On occasion, the Kanwariyas have been known to resort to violence.
The Hypocrisy That Is Exaggerated
Such erratic behaviour has no place in a civilised and orderly society. However, baraats, inaugurations, VIP movements, political rallies, or parents vying for positions outside of schools to pick up their children, to my knowledge, do not. None of the preceding takes into account the rights of others to use public space. This level of hypocrisy can only be described as epic.
Overzealous parents take over entire streets on the outskirts of campuses as if they have a right to do so by virtue of having children. Hours could pass as you try to make progress. What happens when a street in front of a school or a wedding procession becomes overcrowded? How is an ambulance going to get through? With folded hands, I address the 'well-meaning, concerned individuals.'
Can you, after all, define a Kanwar for me? "When are you going to log off, and where are you going?" Who are these individuals, and where did they come from? This is a monologue from Jolly LLB, a decent Bollywood film that has inspired a slew of Internet jokes. For the vast majority of the year, the state and upper class/caste society ignore these Shiv Bhakts. They're somewhere in the shadows of the ugliness that is NCR's apartment buildings. When and how do service workers, such as wedding buffet servers or school gate guards, assert their right to public spaces where others are abusing their privilege? It is common knowledge that male and female wedding party members interact differently with the wait staff. The total disregard and superiority shown toward them are degrading and offensive.
Also Read: In Prison, Zubair Found Hope: 'More Interactions Can Change People.'
Do You Object To The Fact that everyone has access to public restrooms?
When I try to imagine myself, I frequently end up in the role of this waiter. When I do this, I look forward to the Kanwar yatra because it is my one and only chance to demand recognition and exercise my legal right to be in a public place. I will take advantage of this opportunity because it is the only time state politicians will shake my hand with folded palms and law enforcement will serve me rather than abuse or assault me. Discrimination based on my social status has irritated me.
Do you remember Satya from Ram Gopal Varma? A man's disrespect and humiliation resulted in the formation of a gangster who masterminded the murder of a police commissioner.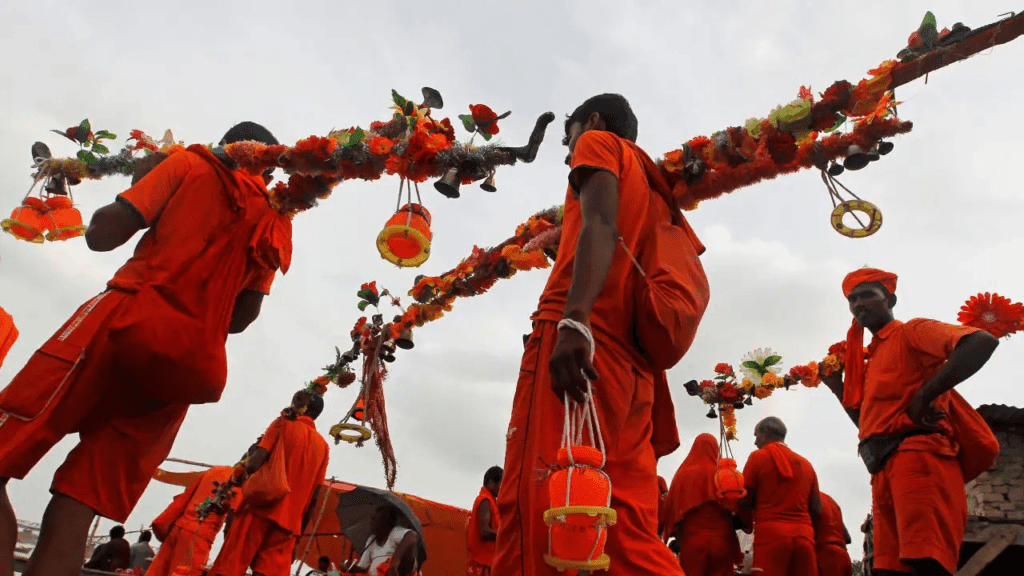 In and around NCR nightclubs and bars, doormen, cleaners, waiters, bartenders, parking boys, security guards, and drivers are collectively known as "Kanwariyas," a derogatory term for people who violate the dignity of the vulnerable, disrespect public space, and treat the powerless with contempt. The Kanwariyas aren't the problem. The issue is elsewhere.
Kanwariyas are a social group that has no rights, security, or respect. This segment of society is forbidden from having lofty goals because it has taken all of the best opportunities for itself. During the majority of the year, these guys simply watch as you drive your car into internet hotspots and hand the keys to the valet so you can go out and have fun without worrying about your vehicle. They are not permitted in your party area. It's that time of year when they go out to celebrate after a long day of work, or in this case, walk. They will be drunk, dance to street DJs, give you the cold shoulder while waving a baseball bat, and demand respect. Is something wrong here?
(The Guardian And Reuters Were Used As Resources)
---
 Kanwar Yatra || Don't Forget To Subscribe To Our Newsletter To Get Curated Content In Your Mailbox. Also, Do Follow Us On Our Social Media Channels Facebook | Instagram | Twitter | Linkedin | and Youtube.