On the occasion of National Handloom Day, celebrated annually on August 7, let's delve into the pivotal role that Khadi played in India's struggle for independence and its enduring popularity.
Introduction: Khadi's Enduring Relevance
Khadi, an inseparable strand woven into the tapestry of our nation's history, carries profound significance both in the annals of our freedom struggle and in the contemporary context. As an iconic fabric, it continues to symbolize our fight for independence while reflecting our collective aspiration for a sustainable and culturally enriched world.
Khadi's Emergence in India's Freedom Movement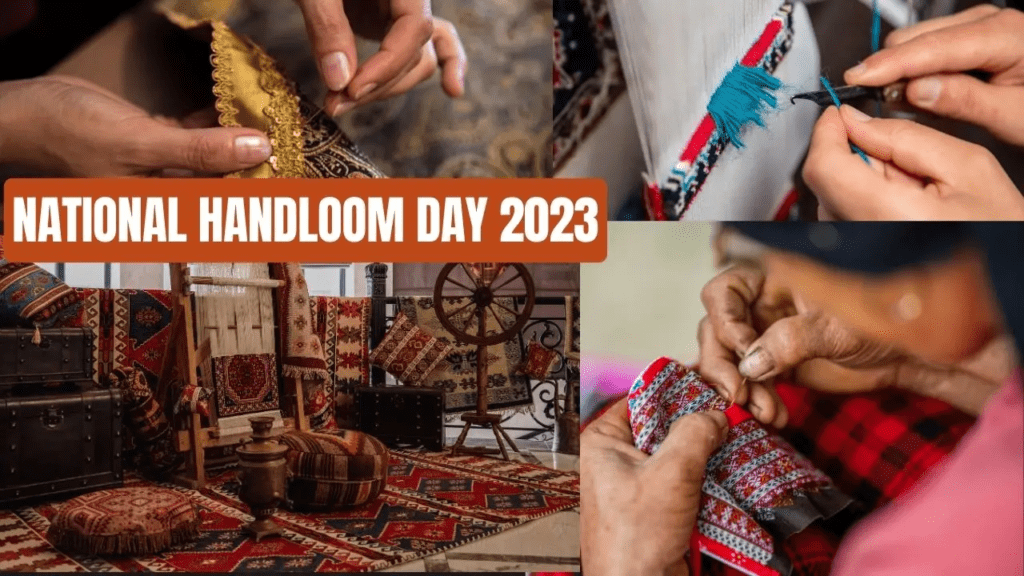 In 1918, Khadi was introduced to the people of undivided India with a profound goal: to achieve self-sufficiency and break free from British textiles. Derived from the term "khaddar," Khadi signifies handspun and hand-woven cotton cloth, emerging as a powerful symbol during India's struggle for independence.
Mahatma Gandhi is credited with coining the term "khadi," inspired by the fabric's rugged texture. The process of spinning Khadi involves using a charkha, an Indian spinning wheel, which itself became an iconic symbol featured on the Indian national flag designed in the 1930s.
The Khadi Movement: A Catalyst for Freedom
Rooted in history, Khadi stands closely associated with Mahatma Gandhi and his pivotal role in elevating the fabric's position and significance. Khadi's success as a tool in the freedom struggle lies in its ability to pick up and re-craft existing politico-economic critiques with its unique qualities, making it relatable to people from various backgrounds.
Beyond its role as a fabric, Khadi echoes Gandhi's call for economic independence, providing livelihoods to rural communities and preserving craftsmanship. This living heritage stands as a testimony to the skill, dedication, and artistry of our weavers, transcending mere threads and looms.
Khadi's Evolution: From Independence Struggle to Modern Fashion
Khadi, once documented, emerged as a significant source of rural employment, second only to agriculture. However, due to the dominance of powerloom sectors, handloom sectors faced setbacks including yarn scarcity and the rise of mechanized mills. Handloom workers endured low wages and adverse working conditions.
To combat these challenges, raising awareness among consumers is crucial. The fast fashion industry's threat should be acknowledged, and steps toward slow sustainability should be taken. This traditional craft embodies Indian supremacy and the spirit of independence, honoring the hardships endured by freedom fighters.
Khadi's Rebirth in the Fashion Sphere
Despite being neglected for years after independence and labeled a 'poor man's fabric,' Khadi experienced a resurgence in the late 1980s and early 1990s. It evolved from its robust, undyed, handwoven form promoted by Gandhi to mechanized Khadi woven with new model charkhas and mechanized/semi-mechanized processes.
Khadi is not just a textile; it's a living testament to our history and a dynamic canvas for artistic expression. Its revival signifies a commitment to preserving our roots while fostering economic growth and sustainable practices. This journey, blending tradition and innovation, mirrors India's progress.
Embracing Khadi's Spirit in Today's Fashion World
Khadi embodies the spirit of handspun and handwoven traditions, passed down through generations in Indian history. Each meticulously woven piece carries the dedication of artisans who have honed their craft over time. Its enduring appeal unites wearers in a shared celebration of heritage and craftsmanship.
By embracing Khadi, modern individuals connect tangibly with their roots while embodying the spirit of innovation and evolution within the realm of Indian weaves and handlooms.
---
The Hindustan Herald Is Your Source For The Latest In Business, Entertainment, Lifestyle, Breaking News, And Other News. Please Follow Us On Facebook, Instagram, Twitter, And LinkedIn To Receive Instantaneous Updates. Also Don't Forget To Subscribe Our Telegram Channel @hindustanherald