With the problem of antimicrobial resistance (AMR) on the rise around the world, the focus has been on how the overuse of antibiotics contributes to resistance, which is exacerbated by a dearth of new medications to treat drug-resistant diseases.
However, according to a new report from the Access to Medicine Foundation, limited access to antibiotics, including new products and off-patent drugs that have been around for decades, is an overlooked part of the problem in parts of the world that have both the highest rates of infectious disease and the highest levels of AMR. And a slew of barriers are preventing many low- and middle-income countries (LMICs) from obtaining these vitally needed pharmaceuticals.
However, it has taken a back seat to discussions about antibiotic overuse in humans and animals, a weakened antibiotic pipeline, and a dysfunctional financial market for novel medicines. Access to Medicine Foundation CEO Jayasree Iyer, PhD, would want to see this change.
"We forget that people are dying from preventable diseases even if we have an arsenal of treatments today," Iyer told CIDRAP News. "So, how do we safeguard and protect those drugs, and how do we ensure that patients continue to receive them even when they are infected? When we talk about AMR, I believe it should be brought straight back up."
Limited availability of generic and patented antibiotics
The analysis relies on findings from the Access to Medicine Foundation's 2021 AMR Benchmark report, which discovered that only one-third of 17 companies' antibiotics and antifungals were covered by a plan that might make these products more available in 102 resource-limited countries. Equitable pricing arrangements, technology transfers, voluntary licence agreements, and patient assistance programmes are examples of initiatives to make pharmaceuticals not just available but also inexpensive.
This was not confined to new, novel antibiotics and antifungals, which are often first introduced in higher-income nations. It also includes generic and off-patent antibiotics for common diseases like amoxicillin, metronidazole, and doxycycline.
"It was quite disheartening to find how few generic drugs actually have any access plan linked with them," said Fatema Rafiqi, PhD, research programme manager at Access to Medicine Foundation and report co-author. "These drugs were not getting into these low- and middle-income countries, where they were desperately needed."
Another example is Shionogi, a Japanese pharmaceutical company that announced a partnership with the Global Antibiotic Research and Development Partnership and the Clinton Health Initiative in 2021 to increase access to cefiderocol, a novel antibiotic for MDR infections with limited treatment options, in LMICs.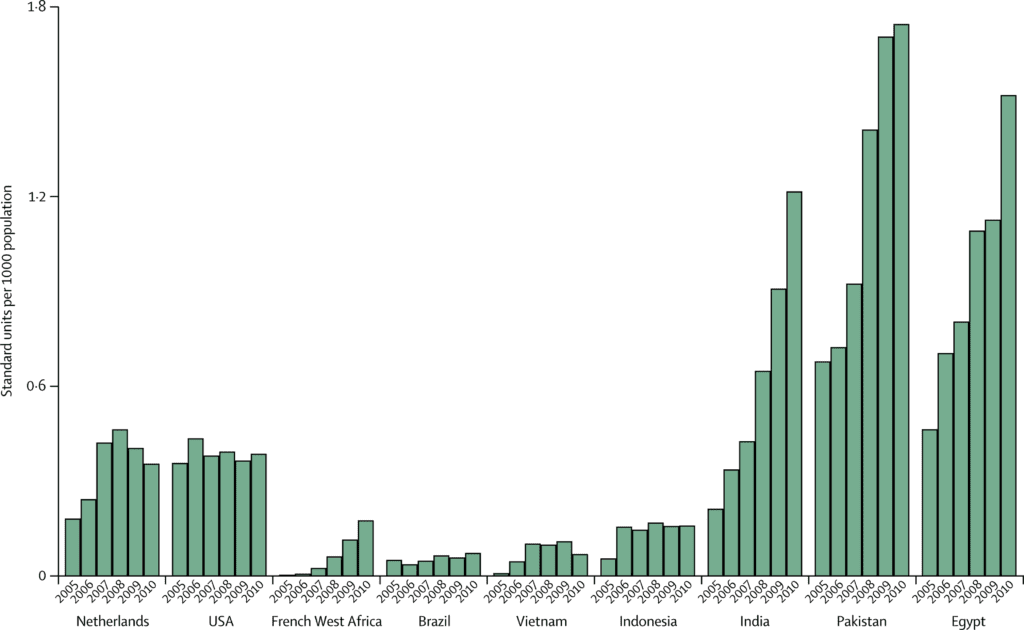 Iyer cited this as a noteworthy example because Shionogi only manufactures its medications in Japan and has no presence in LMICs, and making cefiderocol is complicated. As a result, this first-of-its-kind method to boosting access to novel antibiotics in LMICs is worth keeping an eye on.
"Is this the path that any new product that comes out of the pipeline will take? Is that the only option? That, I believe, is a significant consideration "She stated.
Other efforts to increase access
More efforts are being made to improve access to antibiotics and antifungals. Pfizer unveiled its "Accord for a Healthier World" project in May, under which the corporation will provide 45 LMICs with free access to all of its existing and future patent-protected medications.
Ceftazidime-avibactam is an antibiotic/beta-lactamase inhibitor combination used to treat complex intra-abdominal infections, urinary tract infections, and pneumonia.
Chiara believes that further efforts like these will be required to overcome the access issue.
"Designing and implementing methods to ensure access to all available antibiotic treatments when and where they are needed should be seen as critical goals to halt the emergence of resistance," she said.