Jailed former Delhi deputy chief minister Manish Sisodia has written a letter to the country after CM Arvind Kejriwal raised several questions about PM Narendra Modi's education.
Sisodia's Letter Highlights the Importance of Education for a Prime Minister:Manish Sisodia, the former Delhi education minister, expressed his concerns about the Prime Minister Narendra Modi's educational qualifications in a letter he wrote from jail. Sisodia wrote that it is essential to have an educated prime minister for India's progress, and having a less-educated prime minister is dangerous for the country. Sisodia claimed that PM Modi doesn't understand the importance of education and science, and he has made statements that are detrimental to the country's reputation.
Sisodia Criticizes PM Modi's Knowledge of Science and Education:
Sisodia criticized PM Modi's statements about science and education. He said that when the world is talking about artificial intelligence, it disheartens him to see the Prime Minister saying that we can make tea and food from the polluted gas coming out of dirty drains. He further added that PM Modi becomes a laughingstock for the whole world when he talks about how radars will not be able to detect jets in cloudy weather, and students in schools and colleges make fun of him. Sisodia believes that such statements are dangerous for the country, and they reveal that India's Prime Minister is less educated and does not have basic knowledge of science.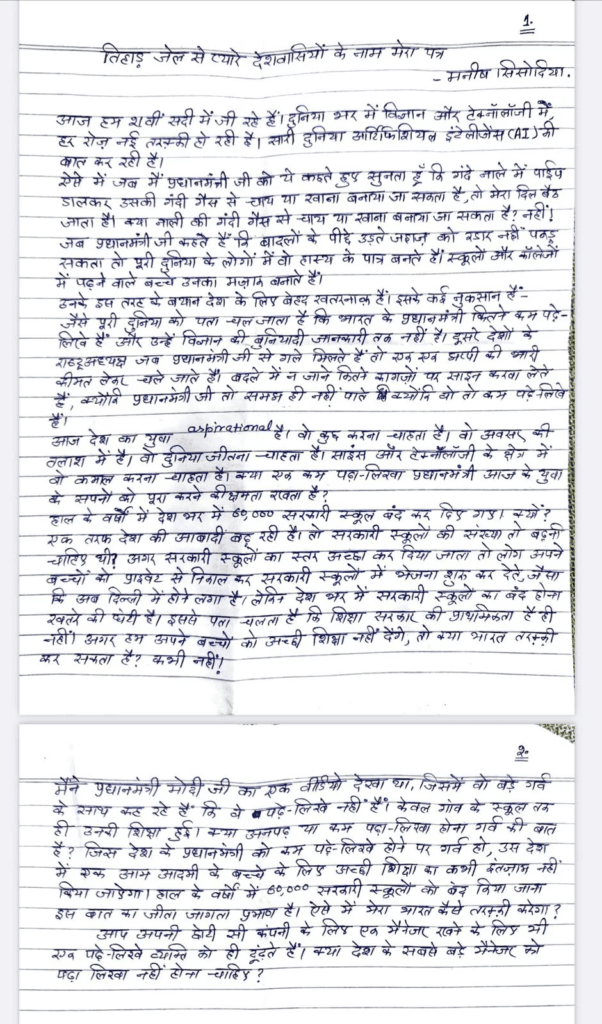 Sisodia's Concerns about Education in India:
Sisodia expressed his concerns about the education system in India. He claimed that 60,000 schools have been closed in the country in the last few years, and it shows that education is not a priority for the government. He also said that if the country is looking for a manager of a company, people seek an educated person. Therefore, the country's biggest manager, i.e., the Prime Minister, should also be an educated person.
AAP Vs BJP on PM Modi's Degree:
Sisodia's remarks echo Delhi Chief Minister Arvind Kejriwal's comments when he raised several questions about PM Modi's education. In a press conference last week, CM Kejriwal said that there are several comments that PM Modi has made, which come as a surprise to countrymen. Once he said one can make tea, and in another instance, he said he used to wash dishes. Kejriwal also questioned PM Modi's educational qualifications, saying that no one knows what degrees he holds.
---
The Hindustan Herald Is Your Source For The Latest In Business, Entertainment, Lifestyle, Breaking News, And Other News. Please Follow Us On Facebook, Instagram, Twitter, And LinkedIn To Receive Instantaneous Updates. Also Don't Forget To Subscribe Our Telegram Channel @hindustanherald