India, as the G20 Presidency since December 1 last year, is gearing up for a significant event – the G20 Summit scheduled for September 9-10. The Municipal Corporation of Delhi (MCD) is leading the charge with ambitious projects to transform the cityscape and enhance civic amenities ahead of the Summit.
Decking Up the Capital: A Floral Makeover

MCD's innovative approach involves the installation of over one lakh flower pots in prominent locations across Delhi. These vibrant flower plots aim to add a touch of natural beauty to the urban landscape. Additionally, extra dustbins are being strategically placed in streets to curb littering, particularly in key areas and markets.
Commemorating the G20 Presidency with a 'G20 Park'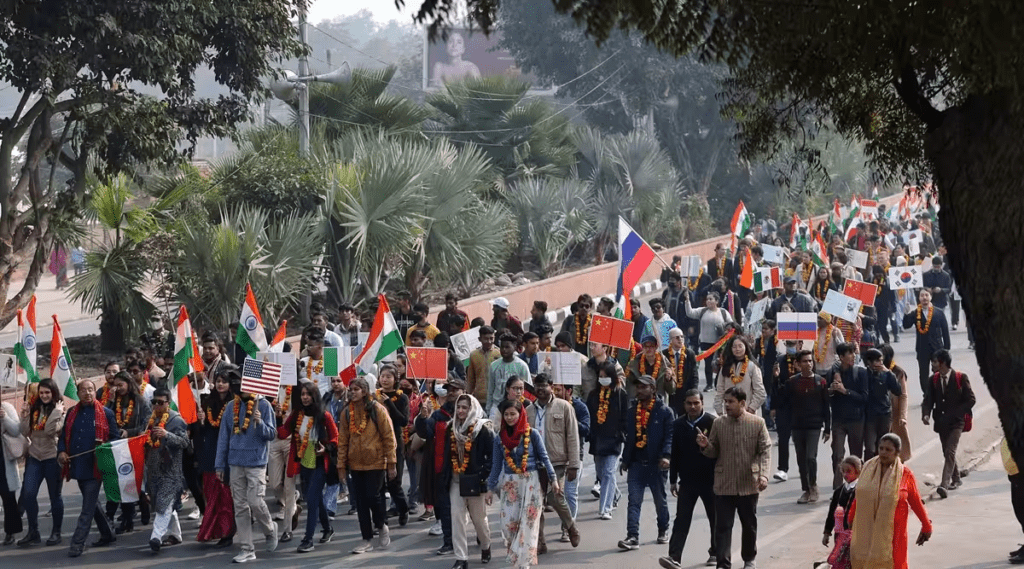 In a unique move, the MCD is planning to develop a thematic 'G20 park' within an existing park premises. This park, situated in M-Block of Greater Kailash-2, will feature artistic representations, including the G20 logo, symbolizing India's G20 Presidency. The park will serve as a testament to the country's significant role in the global economic landscape.
Revitalizing 'Shaheedi Park' and Civic Projects

'Shaheedi Park,' now transformed into an open-air museum adorned with sculptures of freedom fighters and Indian heroes, was inaugurated on August 8. This rejuvenation aligns with the civic projects undertaken in preparation for the G20 Summit. The park, located near the state-of-the-art Pragati Maidan convention complex, will be a prominent venue for the Summit.
Leaders' Commitment and Year-Long Preparations

The 18th G20 Heads of State and Government Summit in Delhi will mark the culmination of numerous G20 processes and meetings throughout the year. Leaders are expected to adopt a G20 Leaders' Declaration, reinforcing their dedication to the priorities discussed during various ministerial and working group meetings. India's meticulous preparations include hosting G20 meetings in diverse locations, highlighting the country's historical and scenic richness.
Enhancing the Cityscape and Infrastructure
Apart from the floral installations and theme park development, Delhi is witnessing a series of civic projects. These include beautification efforts at the Mahipalpur roundabout near the airport and improvements at a market adjacent to PVR Anupam cinema hall. Signage, display boards, and road clean-up initiatives are aimed at improving the city's aesthetic appeal.
A City on the Rise: Roads, Cleanliness, and Sustainability

Delhi's roads leading to and from significant venues are set to receive regular cleaning and maintenance through the use of advanced technologies like Mechanical Road Sweeping Machines (MRSMs), jetting, and sprinkler systems. Moreover, the MCD is actively involved in restoring areas affected by recent flooding, with restoration work being handled by the public works department and the Delhi Development Authority.
---
The Hindustan Herald Is Your Source For The Latest In Business, Entertainment, Lifestyle, Breaking News, And Other News. Please Follow Us On Facebook, Instagram, Twitter, And LinkedIn To Receive Instantaneous Updates. Also Don't Forget To Subscribe Our Telegram Channel @hindustanherald