After a hiatus spanning six years, the Hijarbie Instagram account has sprung back to life, unveiling a striking doll adorned in a sugar-pink ensemble and hijab. This resurgence has garnered genuine surprise and heartfelt appreciation from its devoted admirers.
A Creative Journey Ignited by Absence: Filling the Gap in Visual Representation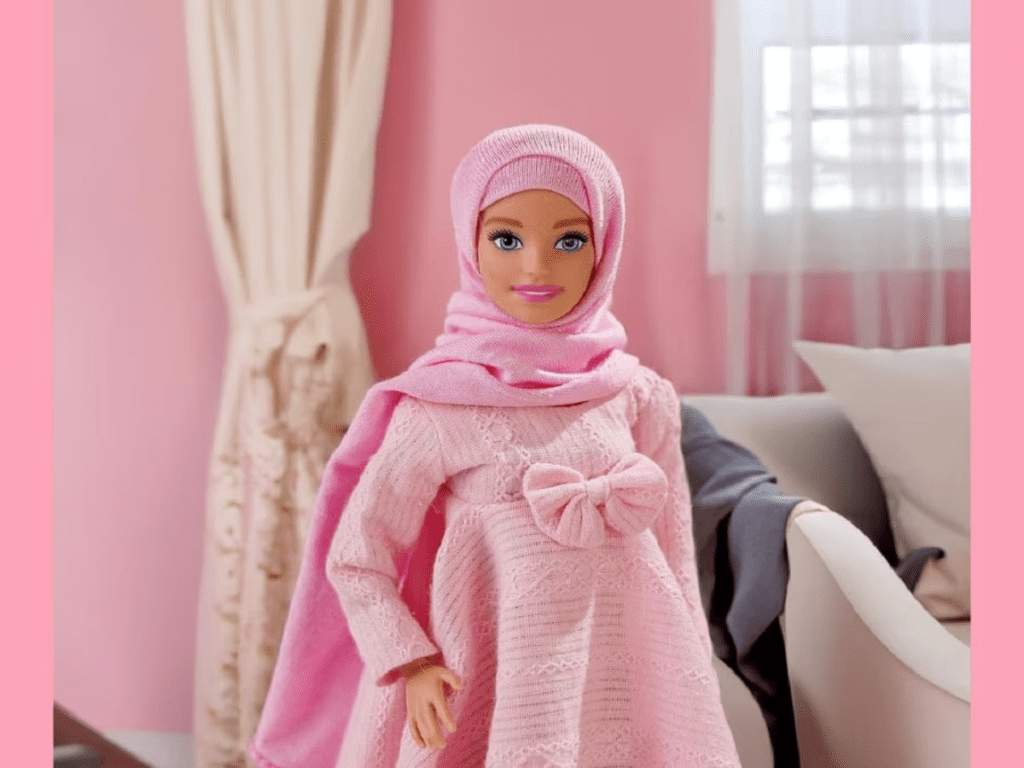 In 2015, Haneefah Adam embarked on a creative endeavor that introduced dolls draped in Muslim attire, responding to the notable scarcity of modest clothing and hijabs within the realm of social media. Motivated by her own experiences and a quest for representation, Adam, a self-taught artist who had previously shared her perspectives on food, faith, and fashion through her blog, felt compelled to address this visual void.
A Bold Step Toward Representation: Hijab-Wearing Barbie Takes Center Stage
Adam took matters into her own hands, designing a doll adorned in a black hijab, paired with a navy maxi skirt and a stylish blue top. This striking creation, shared with the world in December 2015, garnered an outpouring of positive comments and inquiries from intrigued individuals seeking clothing options for their daughters and nieces. The doll's impeccable fashion sense even ignited playful envy.
The Evolution of Hijarbie: A Visual Tapestry of Muslim Fashion and Culture
Adam's artistic journey reached new heights with her interpretation of a cornflower blue abaya, influenced by British lifestyle and fashion influencer Habiba da Silva. The subsequent media frenzy, including recognition from Teen Vogue, thrust her work into the limelight.
Celebrating Diversity and Empowerment: Hijarbie's Impact on Representation
Over the span of seven years, Hijarbie's Instagram account has evolved into a rich tapestry of Muslim fashion and culture, showcasing over 70 diverse outfits and featuring dolls inspired by influential Muslim women. The account has garnered an impressive following of 59,000 individuals who resonate with Adam's powerful message of representation and inclusion.
A Resurgence Ignited by Feminist Ideals: Hijarbie's Return to the Spotlight
Resuming her creative efforts recently, Adam returned to the world of Hijarbie after a hiatus focused on nurturing her young family. The catalyst for her return was the buzz generated by a Barbie movie that champions feminist ideals. In a conversation with The Guardian, she expressed, "Barbie has created a new phenomenon, celebrating femininity, independence, and female power."
Championing Representation Amidst Challenges: Overcoming Dissent and Elevating Discourse
While the journey has predominantly been marked by positive responses, Adam acknowledges the existence of dissenting voices. She highlighted, "Somepeople wrote things like 'remove your hijab,' but that was a minority. Even non-Muslims have appreciated how important it is to talk about representation."
Impact Beyond Instagram: Hijarbie's Contribution to Shifting Depictions
Adam's work has extended beyond her Instagram account, contributing to a broader shift in the portrayal of hijab-wearing women. In 2017, renowned toy manufacturer Mattel introduced the world to the first Barbie doll adorned with a hijab, inspired by US Olympic fencer Ibtihaj Muhammad.
A Celebratory Culmination: Hijab-Clad Barbie in Film
The pinnacle of this journey was witnessing the portrayal of a hijab-clad Barbie in a 2023 movie, played by Dr. Fatumina Said Abukar. Reflecting on her diverse collection, Adam remarked, "My Barbies are diverse… The doll exists to celebrate all of us."
Hijarbie's Empowering Legacy
Nigerian artist Haneefah Adam's Hijarbie has rekindled the presence of hijab-wearing dolls, offering a powerful message that embraces and celebrates Muslim culture. Through a journey marked by creativity, representation, and resilience, Adam's work has not only impacted Instagram but also contributed to a broader shift in how hijab-wearing women are depicted. With a diverse collection that resonates with a global audience, Hijarbie stands as a testament to empowerment, inclusion, and celebration.
---
The Hindustan Herald Is Your Source For The Latest In Business, Entertainment, Lifestyle, Breaking News, And Other News. Please Follow Us On Facebook, Instagram, Twitter, And LinkedIn To Receive Instantaneous Updates. Also Don't Forget To Subscribe Our Telegram Channel @hindustanherald