Former cricketer Virender Sehwag, renowned for his cricketing prowess, recently watched the sports drama "Ghoomer," starring Abhishek Bachchan and Saiyami Kher. Sehwag took to social media to share his heartfelt review of the film, prompting reactions from both the film's cast and Bollywood legend Amitabh Bachchan.
The Film's Release and Grand Screening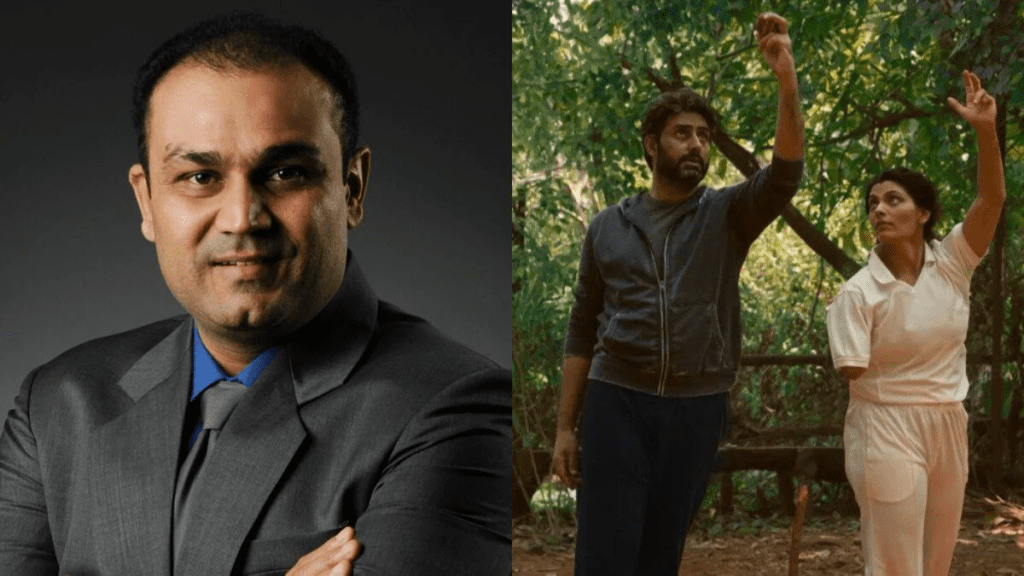 The highly anticipated sports drama "Ghoomer," directed by R Balki and starring Abhishek Bachchan and Saiyami Kher, was released in theaters. A grand screening event was held the previous night, attended by the film's cast, crew, and prominent cricketers including Yuvraj Singh and Zaheer Khan.
Sehwag's Impression of the Film

Virender Sehwag shared his thoughts about "Ghoomer" through a video he posted on his Twitter account. In the video, Sehwag expressed his enjoyment of watching a cricket-themed film after a long time. He praised the film's portrayal of both cricket and emotions, emphasizing the struggles of sportspersons, particularly their journey of returning from injuries. Sehwag also commended the acting performances, mentioning Abhishek Bachchan's convincing portrayal and Saiyami Kher's impressive spin on the ball.
Amitabh Bachchan and Abhishek Bachchan's Reactions

Both Amitabh Bachchan and Abhishek Bachchan reacted to Virender Sehwag's review. Amitabh Bachchan shared the review video on his Instagram and expressed gratitude for Sehwag's kind words. Abhishek Bachchan, on the other hand, praised Sehwag as a gem and expressed his appreciation for the warmth and encouragement Sehwag provided.
Film's Cast and Premise

Alongside Abhishek Bachchan and Saiyami Kher, "Ghoomer" boasts a stellar cast including Shabana Azmi, Angad Bedi, Shivendra Singh Dungarpur, and more in pivotal roles. The film's plot revolves around the world of sports and its challenges, bringing forth a unique narrative that resonates with both cricket enthusiasts and fans of engaging storytelling.
In conclusion, the review of "Ghoomer" by Virender Sehwag, a respected figure in the sports world, has garnered attention and appreciation from both the film's audience and the Bollywood community. The film's exploration of cricket and emotions, as well as its strong performances, have contributed to its positive reception. With Amitabh Bachchan's and Abhishek Bachchan's endorsements, the film is set to captivate audiences with its compelling story.
---
The Hindustan Herald Is Your Source For The Latest In Business, Entertainment, Lifestyle, Breaking News, And Other News. Please Follow Us On Facebook, Instagram, Twitter, And LinkedIn To Receive Instantaneous Updates. Also Don't Forget To Subscribe Our Telegram Channel @hindustanherald