In a remarkable display of medical expertise and quick action, a team of doctors from the All India Institute of Medical Sciences (AIIMS) in Delhi successfully revived a two-year-old child who had stopped breathing mid-air during a Delhi-bound Vistara flight. The incident took place on Vistara Airline flight UK-814. The doctors, who were returning from the Indian Society for Vascular and Interventional Radiology (ISVIR) conference in Bengaluru, examined the child and provided immediate emergency medical treatment in response to a distress call.
Rapid Response and Collaboration
The child's condition was critical as she was found unconscious and cyanosed, requiring urgent intervention. The doctors initiated a series of life-saving procedures, including placing an IV cannula, ensuring airway passage, and starting emergency response protocols. Through their coordinated efforts, the child's pulse was restored, and her circulation was stabilized—a pivotal moment in her recovery.
A Complex Journey to Stability
The child's ordeal did not end with the initial revival. The medical team onboard encountered another cardiac arrest, prompting the use of an Automated External Defibrillator (AED). Despite the challenges, the dedicated medical professionals managed to resuscitate the child over a 45-minute period. In a testament to their expertise, they successfully stabilized her condition for the remainder of the flight.
Landing in Nagpur: A Turn of Events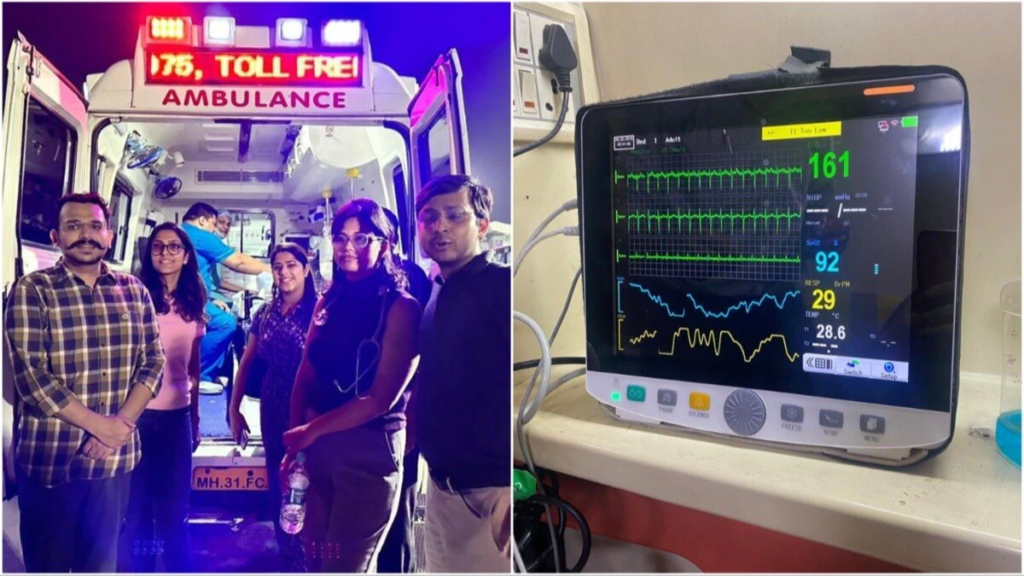 The severity of the situation necessitated an unscheduled landing in Nagpur due to the medical emergency. Upon arrival, the child was handed over to a pediatrician in a stable hemodynamic condition. This collaborative effort between the AIIMS team and the local medical personnel ensured that the child received the necessary care to maintain her stable condition.
A Testament to Medical Excellence
This incident highlights the critical role of skilled medical professionals in handling emergencies, even at 30,000 feet. The AIIMS team's rapid response, effective collaboration, and commitment to the child's well-being demonstrated the highest standard of medical excellence, ultimately saving a young life in distress.
---
The Hindustan Herald Is Your Source For The Latest In Business, Entertainment, Lifestyle, Breaking News, And Other News. Please Follow Us On Facebook, Instagram, Twitter, And LinkedIn To Receive Instantaneous Updates. Also Don't Forget To Subscribe Our Telegram Channel @hindustanherald