In the hustle and bustle of modern life, cultural festivals serve as a timeless reminder of tradition, unity, and joy. One such vibrant celebration is Hariyali Teej, a festival deeply rooted in the Hindu culture of India. This year, the festival falls on August 19 and promises to bring happiness and contentment to those who take part in its vibrant celebrations. It holds a special place for families, providing them with an opportunity to unite and strengthen their bonds.
Reunion of Lord Shiva and Goddess Parvati
Hariyali Teej carries a profound significance as it commemorates the reunion of Lord Shiva and Goddess Parvati. Occurring in the month of Shravan (August-September) according to the Hindu calendar, this festival serves as a heartwarming reminder of the eternal love and divine partnership between these deities. As we delve into the festivities of Hariyali Teej, let's explore its various facets.
Festival Highlights
Two Days of Celebration and Devotion
Hariyali Teej spans across two days of fervent celebration. It is particularly cherished by married women, who wholeheartedly pray for the well-being and prosperity of their husbands during this time. A distinctive feature of this festival is the adornment of hands with traditional henna patterns and dressing in vibrant green attire.
Auspicious Puja Muhurat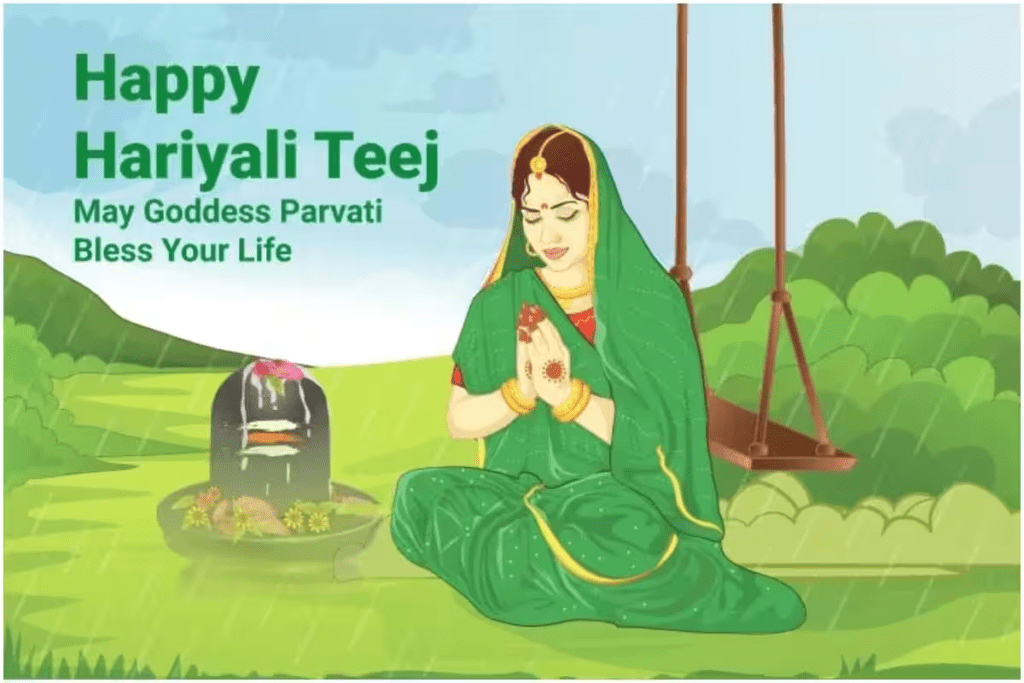 Date: Saturday, August 19, 2023
The festival day, marked as Tritiya Tithi, begins at 08:01 PM on August 18, 2023, and concludes at 10:19 PM on August 19, 2023. During this period, a special ceremony is conducted to celebrate the reuniting of Lord Shiva and Goddess Parvati. Devotees engage in this ceremony with unwavering devotion and focused participation.
Rituals and Puja Vidhi
The rituals of Hariyali Teej are deeply rooted in tradition and devotion. These include the sacred act of bathing in rivers or reservoirs, heartfelt prayers to Lord Shiva and Goddess Parvati, and the performance of ceremonies such as Hawan or Yagna. Reciting mantras, offering sweets, and lighting lamps are among the numerous rituals undertaken. Each action is performed with sincerity to receive blessings from the deities.
Strengthening Bonds and Fostering Joy
Following the puja, a sense of togetherness and positivity fills the air as family and friends come together to share offerings. Flowers, fruits, and sweets are exchanged, creating an atmosphere of joy and unity within households. A beautiful tradition follows the puja, where married women tie a special thread around their wrists as a symbol of good luck and prosperity.
Celebrating Tradition and Unity
Hariyali Teej serves as a joyful reminder of tradition and unity. As families come together to celebrate, the festival offers an opportunity to strengthen bonds, seek harmony, and embrace peace. With its vibrant rituals and heartfelt devotion, Hariyali Teej continues to be a cherished festival that brings happiness and contentment to all who partake in its celebrations.
---
The Hindustan Herald Is Your Source For The Latest In Business, Entertainment, Lifestyle, Breaking News, And Other News. Please Follow Us On Facebook, Instagram, Twitter, And LinkedIn To Receive Instantaneous Updates. Also Don't Forget To Subscribe Our Telegram Channel @hindustanherald