The demand for deferring and cancelling examinations all over the country in this pandemic are at a all time high now. As CBSE (Central Board Of Secondary Education) decided to cancel it's Class X and Class XII examinations, many other boards throughout this country also decided to cancel or defer their examinations in lieu of the ongoing pandemic.
Now The National Students Union Of India(NSUI) has vocally demanded the cancellation of FMGE Examination which is conducted by National Board Of Examinations every year.
The Foreign Medical Graduate Examination or FMGE is a licensing examination conducted by the National Board of Examinations (NBE). The examination needs to be cleared by all those Indian citizens/OCIs who have complete their primary medical qualification from an institution outside India but wish to practice in India.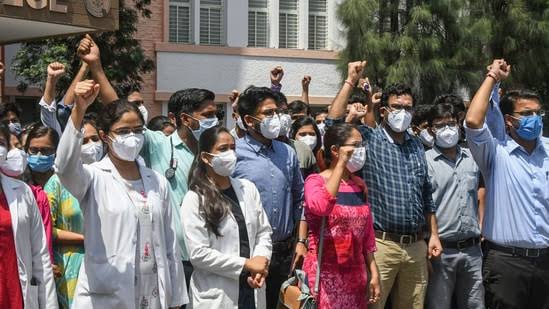 The exam is given by around 25000 foreign graduates every year, but this year due to the ongoing pandemic it is being highly doubted that how government will be able to execute the examination.
As the states have only 1-2 centres for the examination, it will create a ruckus and can even lead to crowding thus destroying the norm of social distancing.
The official Twitter handle of NSUI tweeted- 'Covid has destroyed everything and instead of providing necessary help govt is engaged in planning for exam of Doctors which are consistently engaged in relief work, is it commitment ? #NBE_Postpone_FMGE"
Many NSUI leaders also came forward to demand the cancellation of said exam.Neeraj Kundan, The National President of The Students union tweeted-
"The pandemic threatened almost every one of us . When the Nation was in need , the fraternity which came out to save the needy were the doctors . Now it's our time to payback them . I urge officials to postpone FMG exam. #NBE_Postpone_FMGE"
The Tamil Nadu unit of the union also came forward to show support for the cancellation of exams.Vice President of NSUI Tamil Nadu Virudhunagar District Srimaan Ramachandra Raja tweeted-Lockdowns has not been lifted up in many places, this will make the travel and accommodation difficult, why we have to go through so much. #NBE_Postpone_FMGE
Many foreign graduates have been demanding the cancellation owing to the doctor's shortage at this time of the pandemic. They believe that cancelling the examination would help students to directly practice in the country and serve the nation in this unprecedented situation.
---
Don't Forget To Follow Our Social Media Handles Facebook | Instagram | LinkedIn | Twitter. To Get the Latest Updates From Hindustan Herald